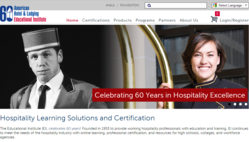 Orlando, Florida (PRWEB) March 28, 2013
The American Hotel & Lodging Educational Institute (EI) launched a new website on March 26, 2013. The mobile-friendly site, at http://www.ahlei.org, features a fresh look and feel with easier navigation to help visitors find hospitality learning solutions, training programs, and professional certification information quickly and efficiently.
The new site includes updated social media features and an automatic translation tool with more than 60 language options to enable EI's global customers to browse the website in their own language. It also features a new "articles" section with detailed content about EI programs and information of interest to the hospitality industry.
Customers who had previously set up an account with EI's online store will need to renew their registration and account information to order products from the website's new e-commerce platform.
"Building the new site gave us the perfect opportunity to take a hard look at what our customers' site needs were and how they were using the current websites, so we could create an enjoyable and more streamlined customer experience. Using new technologies and design practices, namely responsive web design, we feel we have done just that and we are very excited about the launch," said Joshua Sumption, CHS, CMHS, EI's chief technology officer.
The launch of the new website, which offers quick and easy access to essential information about EI's products and services, is part of the organization's ongoing efforts to enhance the quality and availability of information to members and hospitality professionals worldwide.
-30-
About the American Hotel & Lodging Educational Institute
Established in 1953 as a nonprofit educational foundation of the American Hotel & Lodging Association, the Educational Institute's mission is to continue being the preferred provider to the lodging industry, hospitality schools, and related hospitality industries by developing and providing quality resources to train, educate, and certify hospitality professionals worldwide.