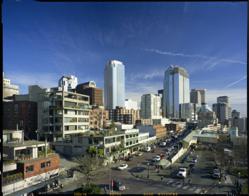 "In many ways we built and sold what the market wanted so it's validating to have earned such a commanding share in Seattle's competitive market." Broker, Sandy Justen
Seattle, WA (PRWEB) March 27, 2013
In another sign that the in-city condominium marketplace has rebounded, Fifteen Twenty-One Second Avenue – a 143-unit condominium tower of "all penthouse-style" homes averaging nearly 2,000 square feet and an average sale price of $1.8 million, has just one developer-owned residence to sell, according to its representatives.
"The sales performance of this unique community is extraordinary especially considering its exposure to a roller coaster marketplace since its delivery," said Dean Jones, Principal of Realogics Sotheby's International Realty (RSIR), the listing brokerage firm on the property. "We're obviously immensely proud of our collective accomplishments on this concept-to-closing account."
Jones credits the project's design differentiation, real time market research and the dedicated sales representation by RSIR's Citrone Partners for the award-winning results. According to their estimates Fifteen Twenty-One Second Avenue has garnered more than half of all the million-dollar-plus condominium sales in downtown Seattle since 2009 and received numerous accolades from industry observers.
"It has been an honor to represent Fifteen Twenty-One Second Avenue, not just as a sales broker but as a homeowner and a member of this beautiful community," said Sandy Justen, who is partners with Julie Biniasz and Sam Cunningham in Citrone Partners. "Our sales process started well before any lines were drawn on a page. In many ways we built and sold what the market wanted so it's validating to have earned such a commanding share in this competitive category. We'll soon be sold out and our team will then focus on a limited portfolio of resale homes within the building."
Overall the in-city condominium market has tightened up considerably in recent years according to RSIR reports. There are currently just 47 new construction condominium homes remaining for sale with 68 resale properties in the center city market – that's less than 5% of the total inventory on the market during the height of the condo boom five years ago. With rising demand and finite supply for the next few years median home prices have been steadily rising. Estimates by RSIR track median prices for condominiums in downtown Seattle nearing $500,000 for the first quarter of 2013 compared with $365,000 during the same period in 2012 – a 35% increase.
The final new construction property for sale at Fifteen Twenty-One Second Avenue is #3402 – a 1,734-square foot, two-bedroom, two-bathroom sub penthouse offering commanding views of the downtown skyline and vistas of Elliott Bay over The Pike Place Market.
About Realogics Sotheby's International Realty: Artfully uniting extraordinary homes with extraordinary lives, Realogics Sotheby's International Realty is a leading project marketing and sales brokerage in the Pacific Northwest and a top-selling office in downtown Seattle. The Puget Sound Business Journal as the second fastest growing private company in Washington State for 2012, the boutique real estate firm of approximately 55 brokers. Visit http://www.RealogicsSothebysRealty.com.