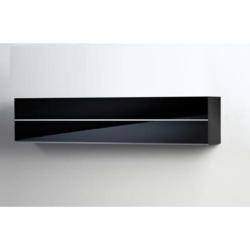 (PRWEB UK) 30 March 2013
FurnitureInFashion, leading furniture manufacturer and supplier, recently launched stunning smart black wall mounted floating cabinet for creating extra storage in any room. The stylish black wall mounted cabinet is not only a stylish cabinet but offers an elegant means to save the floor space by making the best use of empty walls. It is a glamorous alternative for storing DVDs, CDs and other game gadgets. FurnitureInFashion has followed the latest modern furniture trends in 2013 related to home storage improvement. The consumers are not only investing in contemporary basic furniture but also in storage furniture to make the best use of the available space.
This stylish black wall mounted cabinet is ideal for modern homes where the homeowners wish to store their entertainment equipment. This cabinet is a glamorous option to be installed on the walls of any room for storage purposes. Homeowners can install this cabinet in a living room to store CDs, DVDs, remote controls, wires and several other gadgets. The cabinet has been organized in two wide storage compartments.
This smart black wall mounted floating cabinet has a smooth matte black finish. This sleek and neat unit also features a highly polished tempered black glass top. This storage cabinet also has a piano black high gloss uplift door which lifts up and away to the ceiling for convenience rather than the usual dropdown.
This new smart black wall mounted floating wall cabinet has been manufactured with high quality craftsmanship and material. German manufacturing processes have been used to fuse the Italian design concepts for manufacturing this beautiful black floating cabinet. The Managing Director of FurnitureInFashion said, "Floating cabinets of FurnitureInFashion have been one of the most popular types of available cabinets. The renowned durability of floating cabinets by FurnitureInFashion is proved, year after year, to be a great storage convenience in a living room. FurnitureInFashion has over 5 years of experience in the furniture industry and can help each customer to have a perfect storage floating cabinet for home."
Asad Shamim, Managing Director and CEO of FurnitureInFashion, said, "This new black stylish floating cabinet can be a great addition to a small room as it takes very limited amount of floor space. This cabinet has a width of 136 cm, height of 29.2 cm and depth of 24.8 cm. With its sleek and minimal structure, homeowners can save a lot of space. The depth of the cabinet has ample storage space and can accommodate all entertainment essentials."
"FurnitureInFashion is on the lookout for the highest standard of quality and design for customers and the company is delighted to introduce this latest addition to the floating cabinet range. This wall cabinet sits well within the contemporary range of FurnitureInFashion. The new cabinet is very easy to be taken care of and fits very well in any modern décor of the home. FurnitureInFashion has been working closely with suppliers to bring in the very best and contemporary designs for the today's homes," said the MD of FurnitureInFashion. FurnitureInFashion offers various storage solutions for homes including living room, bedroom, dining room, kitchen and bathroom.
To have a look at this new black floating storage cabinet and to place a pre-stock order, please visit the company website today at http://www.furnitureinfashion.net. The range of storage cabinets at the website is huge, delivery is fast, savings are massive and the quality is guaranteed.
About FurnitureInFashion
FurnitureInFashion is a UK based online retail business. It supplies furniture items from its German based warehouse and has a showroom in Bolton, UK. The company provides everything from umbrella stand, wall art and room dividers to bedroom, bar stools and computer tables. FurnitureInFashion offers excellent free delivery within UK and has a fantastic customer service as well. For further information and details about the sale, please visit http://www.furnitureinfashion.net