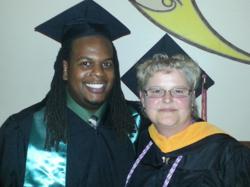 This graduation ceremony was particularly memorable as we honored the first graduating RN-to-BSN class from Hondros College.
Columbus, Ohio (PRWEB) March 27, 2013
Hondros College held its combined fall and winter quarter commencement ceremony with the conferring of 408 diplomas on Sunday, March 24, 2013, at Aladdin Shrine Center in Columbus, Ohio.
Hondros College nursing students in the graduating class came from the Columbus, Dayton, Cincinnati and Cleveland areas. The commencement ceremony included graduates of the following programs: practical nursing, associate degree in nursing and baccalaureate degree in nursing. Nearly 2,000 family members and friends were in attendance to support the graduates at the ceremony.
"Graduation is always a special day to recognize the successes and accomplishments of our graduates," said Linda Hondros, President of Hondros College. "This ceremony was particularly memorable as we honored the first graduating RN-to-BSN class from Hondros College. I am so proud of our graduates, and I know they will impact many lives as caring, professional nurses."
On Sunday, graduates were addressed by Ohio State Representative Anne Gonzales and Colonel Stephen Hall of the United States Army. Both speakers delivered personal and inspirational messages about the impact nurses have on the lives of people around them.
Hondros College offers a comprehensive nursing curriculum designed to accommodate adult students who aspire to advance their education.
For more information on Hondros College's nursing programs, please visit Nursing.hondros.edu or call 1-888-HONDROS.
About Hondros College
For more than 40 years, Westerville, Ohio-based Hondros College has been educating individuals who want to improve their lives by finding, entering and succeeding in a new career. In 2006, Hondros College began offering nursing programs to further its mission. Nursing students can earn a Practical Nursing Diploma and an Associate Degree in Nursing, to become an RN, at four Ohio campuses in Fairborn, Independence, West Chester and Westerville. In addition, the online RN-to-BSN program is approved and offered through the Westerville Main Campus. "Like" Hondros College - Nursing Programs on Facebook at Facebook.com/HondrosCollegeNursingPrograms and Twitter at Twitter.com/HondrosNursing.