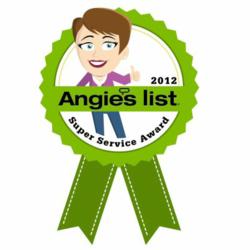 Baltimore, MD (PRWEB) March 28, 2013
Budget Waterproofing, a Maryland basement waterproofing company, announces recently received awards, the Angie's List Super Service Award and the Best of Linthicum Heights Award, which honor the company's service excellence and contribution to the basement waterproofing industry and local community during 2012.
According to Angie's List, the Super Service Award is given annually to companies that "have achieved and maintained superior service rating" on the website for the past year. The service rating is measured by combining feedback from Angie's List members, as well as an overall standing with the Better Business Bureau.
"Less than five percent of all the businesses on Angie's List qualify for this award, and we are honored to receive it and thankful to our customers for choosing our services and leaving positive feedback," shared Robert Bollinger, the owner of Budget Waterproofing.
Located in Baltimore, Budget Waterproofing helps Maryland homeowners solve their wet basement problems through sump pump installation, foundation crack repair, wall balancing and other exterior and interior waterproofing methods.
The 2012 Angie's List Super Service Award is the third for the company that was previously honored by the customer review website in 2009 and 2010.
"Being recognized by Angie's List means a lot to me as a Maryland business owner, as it proves that my team was successful in meeting the high customer service and quality standards we set for our employees," said Bollinger.
He went on to explain that offering transferable lifetime guarantees puts a lot of pressure on the watreproofers, and he's happy to know that the customers are satisfied with Budget Basement's services.
Budget Waterproofing has also been selected to receive the 2012 Best of Linthicum Heights Award in the Waterproofing Contractors category. The award is administered by the U.S. Commerce Association (USCA) in terms of its "Best of Local Business" Award Program that recognizes outstanding local businesses throughout the country.
"Overall, I think 2012 was a great year for Budget Waterproofing," said Bollinger adding that he plans on keeping up the good work in 2013. He also invited Maryland homeowners in need of basement waterproofing services to visit BudgetBasement.com and schedule a waterproofing estimate.
About Budget Waterproofing:
Baltimore basement waterproofing company, Budget Waterproofing has more than 55 years of experience serving commercial and residential customers throughout Maryland. Budget Waterproofing is a member of Better Business Bureau of Maryland, Angie's List and Maryland Home Improvement Commission. For more information, please visit our website at http://www.budgetbasement.com.