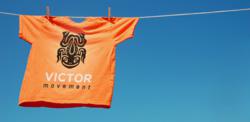 Fleury will be in attendance at his old stomping ground in order to present the Victor Movement, his high-profile campaign to raise awareness of child sexual abuse
Calgary, AB (PRWEB) March 27, 2013
Fleury will be in attendance at his old stomping ground in order to present the Victor Movement, his high-profile campaign to raise awareness of child sexual abuse – a subject he himself has had personal and well documented experience of.
Theo Fleury's Victor Walk
Fleury will be on hand to meet with Flames fans, sign autographs and raise awareness of his latest challenge, the upcoming Victor Walk. The ambitious walk is scheduled to start at the Child Abuse Monument in Toronto on May 14th and end in Ottawa on the steps of Parliament on May 23rd. There, Theo will read aloud his own personal Victim Impact Statement.
Thousands of Canadians - including many of Fleury's high-profile friends - are expected to join the walk, and many who have been personally affected by childhood sexual abuse will join him and his team on the Parliament steps to read their own Victim Impact Statements.
Calgary-based non-profit services provider Frendo.com have partnered on the event and a portion of funds raised through sales of merchandise and donations before, during and after the walk will be donated to three specially selected organizations: The Little Warriors Foundation, the Sexual Assault Centre for Quinte and District and the Siksika Nation.
For more information on the Victor Walk please visit - http://victorwalk.com/
About The Victor Movement
The Victor Movement campaign spearheaded by Theo Fleury and his organization, Theo Fleury 14 aims to raise awareness and change the laws surrounding child sexual abuse in Canada. Fleury's personal connection to the campaign stems from years of sexual abuse at the hands of his hockey coach, Graham James.
Follow the Victor Movement on Facebook and Twitter: facebook.com/victormovement and @victorthefrog
For further information and interviews please contact:
Josh Stanbury | Business Instincts Group | josh(at)businessinstincts(dot)ca | 403-781-6671 Ext.218