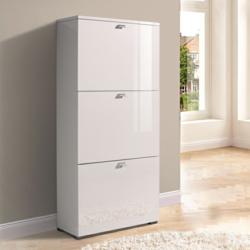 (PRWEB UK) 31 March 2013
Avoid shoe clutter with the new Fame White 3 drawer high-gloss shoe cabinet recently launched by FurnitureInFashion. Fame shoe storage cabinet is a new space saving furniture item that can be used to organize and protect shoes while adding a contemporary look to a hallway or any other room. Fame shoe storage cabinet helps in keeping footwear in its place creating a neat and organized area. Fame storage cabinet is a perfect solution to store shoes and make the best use of available floor space. A white varnished surface, high gloss and stylish metal handles characterize the look of this solitary shoe storage cabinet.
A modern and unique shoe storage cabinet stacks shoes neatly into drawers with an easy opening. The cabinet has three broad drawers. Each drawer of the shoe storage cabinet contains metal baskets inside to store shoes. This modern shoe storage cabinet is in a lacquered high-gloss finish and can be a great addition to any modern and contemporary living room, hallway or bedroom. The metal and gloss white detailing offers unique combination to the shoe storage cabinet. To provide utmost protection to the shoe storage cabinet, melamine carcass finish has been provided. Melamine is scratch resistant and very durable. Each of the drawers has pull down opening function with metal handles. This shoe storage cabinet can store approximately 12 pairs of shoes. The Fame cabinet is 55cm wide, 30cm deep and 129cm high, which is small enough to be stored in a bedroom corner. Its white gloss finish also provides a sleek and clean look that will match any décor.
"Fame shoe storage cabinet by FurnitureInFashion is not only convenient and easy to use, but it also looks stylish and could complement any home," says Managing Director of FurnitureInFashion, Asad Shamim. "Fame storage cabinet will have wide appeal for storage of shoes in the hallway, the bedroom or garage. This shoe storage cabinet is available in white finish in standard size. The shoe storage system is easy to clean and helps in keeping your shoes and storage cabinet to look great."
Fame shoe storage cabinet is ideal for all types of shoes. Women can store their fancy and well designed shoes conveniently in this shoe storage cabinet.. The shoe storage baskets in the drawers of Fame storage cabinet provide protection against damage. Whether managing this cabinet as part of a custom built closet or as a separate cabinet for handling limited shoe space, Fame shoe storage cabinet will help the consumer create the ideal solutions for all shoe storage needs.
The MD of FurnitureInFashion said, "Fame shoe storage cabinet will match any contemporary living room setting. It can be a great addition to small hallway or living room because of its sleek design. The depth of this storage cabinet is ideal for most of your shoe storage requirements. The highest quality material has been used in manufacturing this cabinet. The lacquer finish and melamine of the cabinet make this cabinet extremely contemporary and stylish."
FurnitureInFashion has provided furniture market with beautiful yet functional storage solutions for organizing clutter in all areas of the house. Fame shoe storage cabinet is now available at the showroom of FurnitureInFashion in Bolton and can also be ordered using the website of FurnitureInFashion.
To have a look at this new Fame shoe storage unit and to place a pre-stock order, please visit the company website today at http://www.furnitureinfashion.net. The range of shoe storage solutions at the website is huge, delivery is fast, savings are massive and the quality is guaranteed.
About FurnitureInFashion
FurnitureInFashion is a UK based online retail business. It supplies furniture items from its German based warehouse and has a showroom in Bolton, UK. The company provides everything from umbrella stand, wall art and room dividers to bedroom, bar stools and computer tables. FurnitureInFashion offers excellent free delivery within UK and has a fantastic customer service as well. For further information and details about the sale, please visit http://www.furnitureinfashion.net