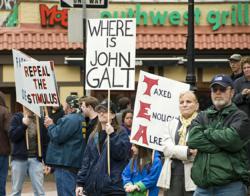 Washington, DC (PRWEB) March 27, 2013
In reaction to the negative global trends for economic freedom and personal freedom, a number of new communities are being created using the "Galt's Gulch" moniker from Ayn Rand's "Atlas Shrugged." In this live, interactive presentation, Atlas Society CEO Aaron Day will review the state of economic and personal freedom, discuss and define "Galt's Gulch," and then analyze some of the larger initiatives (such as Glenn Beck's Independence Park and The Free State Project) to see if they meet the essential definition of a "Galt's Gulch." Sign up now to reserve your spot and participate in the online discussion after the presentation.
Register for "Galt's Gulch Now" here: http://www.atlassociety.org/webinar-galts-gulch-now
About Aaron Day:
Aaron Day has eleven years of CEO and startup experience and personal domain expertise. Day is chairman and CEO of Tangerine Wellness and was Entrepreneur-in-Residence at Industry Ventures, a technology-focused venture capital firm. He served from 1995 to 2001 as Chairman/Chief Executive Officer of Iconomy, an e-commerce ASP (acquired), where he was responsible for Iconomy's strategy and operations. Prior to Iconomy, Mr. Day helped implement a state of the art software system for the largest privately held managing general underwriter, Stop Loss International (acquired by UnitedHealth Group). Day is currently a member of the advisory committee for the X-Prize Foundation. The Boston Business Journal selected Day in 2004 as one of their 40 Under 40 leading business leaders and innovators. Day studied mathematics at Duke University and biology at Harvard UES.
About The Atlas Society:
The Atlas Society promotes open Objectivism: the philosophy of reason, achievement, individualism, and freedom. Our scholars work to further develop this philosophy born in the mid-twentieth century. We present the empowering principles of Objectivism to a global audience, and offer those principles as a rational and moral alternative in the marketplace of philosophical ideas.
We do this through a variety of programs, which include:
-Original scholarly research which further develops the philosophy.
-Academic training of young intellectuals.
-Publishing and commissioning influential books and monographs.
-Our rich multi-media website
-Original commentary and op-eds published in mainstream media.
-Speeches and media appearances.
Register for the "Galt's Gulch" webinar here: http://www.atlassociety.org/webinar-galts-gulch-now
For more information on the novel "Atlas Shrugged" see: http://www.atlassociety.org/webinar-galts-gulch-now