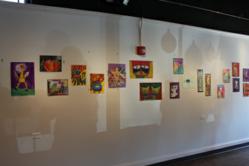 Lincolnton, GA (PRWEB) March 30, 2013
Lincoln Artisans, in conjunction with Lincoln County Elementary School, celebrated Youth Art Month (YAM) with a showing of artwork from our elementary school students.
The artwork show opened with a reception on Thursday, March 21 with approximately 130 people joining in the fun at the Lincoln Artisans Gallery. The artwork on display remained until Friday, March 29. Lincoln Artisans welcomes all visitors! Our hours of operation are Tues., Thurs., and Fri. 11-5 and Wed., & Sat., 11-3. We are closed Sundays and Mondays.