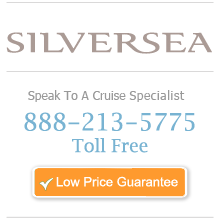 Silversea Luxury Cruises - Perfecting the Art of Travel
(PRWEB) March 28, 2013
Silversea Cruise Sale, an online cruise sale division of Bon Voyage Travel, is pleased to announce the premiere voyage of the Silver Galapagos on January 25, 2014.
Witness the wonders of nature through the award-winning lens of a renowned Oxford-degreed zoologist who has written and photographed for wildlife magazines throughout the world.
The Silver Galapagos is the second small-sized expedition ship for Silversea, and holds 100 guests. As a preferred partner of Silversea Cruises, Silversea Cruise Sale is thrilled to offer guests the opportunity to be one of the first to join in on this inaugural Galapagos adventure.
Guests will explore the wonders of the Galapagos Islands through the award-winning lens of a renowned Oxford-degreed zoologist who has written and photographed for wildlife magazines throughout the world. This "inside view" is unique to the Silver Galapagos and allows passengers to ask questions and share their thoughts with masters of natural history. This once in a lifetime experience is enhanced by special events and guest lecturers. Highlights of the voyage include:
Guest lectures from Dr. Paul D. Stewart and Richard Wollocombe

An Expedition team with renowned zoologists, naturalists, writers and photographers
The Premiere Lecture Program supported by the Royal Geographical Society
A memorable cultural experience at a local Ecuadorian school
Commemorative "old world" chart of the Galapagos Islands and Commemorative Silver Galapagos logo apparel
Hand-crafted sculpture by a local Ecuadorian artisan
To learn more about pricing, availability and the details of the premiere Silver Galapagos sailing and all 2014 sailings, please visit the Silversea Galapagos | Premiere Voyage