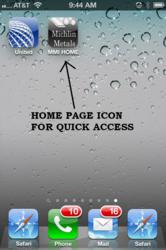 Michlin Metals is proud to offer customers real time access to their industrial knowledge from any and all devices.
Northbrook, IL (PRWEB) March 28, 2013
Michlin Metals, Inc. is a certified woman-owned small business and aerospace alloys and stainless steel supplier. Michlin is proud to announce the launch of its mobile website. Through continuous updates to the company website as well as the newly developed mobile platform, Michlin Metals' site now offers full social connectivity, real time quote requests and click to chat. In addition, the mobile site allows customers access to industry material data with ease.
Due to the increasing popularity of mobile search, Michlin Metals wants to ensure that customers have connectivity from whatever device they choose. The purpose is to provide a similar experience via a mobile device that one could expect to get from their desktop. It is estimated that by the end of 2013, 1 in 3 searches will be done via a mobile device. That being said, Michlin Metals feels it is important to stay ahead of the curve and offer a fully functional mobile site that doesn't diminish the user experience based on their preferred means of search. Whether a customer is looking for stainless steel round bar or specific aircraft alloys, a simple swipe of the finger will enable the user to navigate the mobile site with the same ease as the desktop site.
There are currently thousands of aerospace and metal professionals across the country who are seeking answers to a veritable array of questions pertaining to the steel industry. Now, having the capability of a mobile website, these steel professionals will have instant access wherever they might be, to Michlin Metals and their services. They can reach a live representative through one press of a button, request a quote, search inventory or access any material data. Through the addition of these new platforms, Michlin Metals is proud to offer customers real time access to their industrial knowledge from any and all devices.
About Michlin Metals, Inc.
Michlin Metals is a woman-owned aerospace metals and stainless steel distributor. Located in Northbrook, IL since 1984. Michlin Metals provides material in a timely and cost effective manner. Follow Michlin on Twitter @MichlinMetals, Facebook, LinkedIn, Google+ or on the Web at http://www.michlinmetals.com.