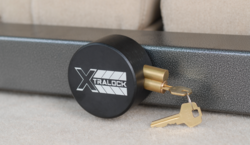 "Our sales are growing daily in this arena," said Deffina.
(PRWEB) March 27, 2013
The media has been reporting the alarming trend for months: Third Row Seat Theft. It's an opportunity for criminals to make thousands of dollars very quickly. A few seconds of work can earn a couple thousand dollars in payout for a thief willing to take a risk, and it's spreading like wildfire.
Third row seat thefts are on the rise, especially with General Motors (GM) Vehicles. GM is only producing enough third row seats to fulfill the number of vehicles being sold. The seats can cost $600.00 at the point of purchase but consumers needing to replace stolen seats and those who decide down the road to enhance their vehicles with additional seating can pay as much as $3500.00, according to reports by ABC news.
Third row seat thieves are cashing in around $2500, leaving plenty of room for black market repair shops and others on craigslist to offer the seats at a price that desperate consumers will pay, especially if it means getting the whole family in the car for the simplest outing.
"The drive and need to replace those stolen seats takes on an emotional dynamic when it affects your family's ability to carry on with daily routines," said Sabino Cici, of Xtralock™, "and so the market for them keeps expanding."
Cici is responsible for developing Xtralock™, a locking system that makes it nearly impossible for thieves to remove the seats, and trying to get past the lock severely damages the seats themselves. Because thieves will be unable to sell the damaged seats on the streets, Cici believes they'll avoid vehicles displaying the Xtralock™ system decals.
Michael Deffina, President of Xtralock adds, "We wanted to create a highly secure system to prevent the theft and the costly break-in damage yet is easy for anyone in the family to install or remove the lock whenever they want."
Consumers aren't alone in the quest for a solution. Car dealers nationwide are using Xtralock™ to protect the GM vehicles on their lot.
"Our sales are growing daily in this arena," said Deffina. "In addition to the loss of the seats, once a vehicle has been damaged by a break-in, it must be disclosed, therefore narrowing the profit margin for the dealer. The liability for third row vehicles is steep for these guys. Xtralock™ protects GM Vehicles and re-sellers from a multitude of hardships and expenses," he said.
The same is true for rental car agencies. Customers are responsible for the vehicle once it leaves the lot. Agencies who equip the vehicles with Xtralock™ are taking the extra effort to protect their consumers from an unpleasant break-in that can lead to thousands of dollars in damages.
"Prior to Xtralock™, rental agencies were actually removing the seats altogether and storing them on site to avoid break-ins and theft," Deffina explains. "This made the check-out and return process lengthy for customers who requested the seats. Xtralock enables the agency to keep the third row seats installed. Customers who wish to remove the seats can do so with ease," he said.
Xtralock™ can be purchased online at xtralock.com.
Xtralock™ Inc. is a privately held company devoted to creating a high quality locking system to lock out criminals and protect third row seat vehicles. Consumers, automotive dealers and rental car agencies can order Xtralock™ by visiting http://www.xtralock.com.
Peggy Glassman
Acme Digital
peggy(at)acmedigitalnc(dot)com
704-604-5515