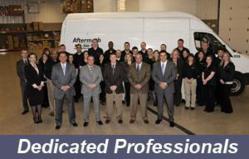 Aurora, Illinois (PRWEB) March 28, 2013
Aftermath Inc. was recently honored as one of the 2013 Annual Awards for Business Excellence. The AABEs highlight successful suburban businesses and organizations and honor the people who make them successful.
The awards program is now in its 23rd year and is promoted by The Daily Herald Business Ledger in partnership with B. Gunther & Co., Lisle; JSH&A Marketing, Oakbrook Terrace; SCORE (Service Corps of Retired Executives); Leaderboard Tournament Systems, Schaumburg, and the Valley Industrial Association.
The award recipients were recognized during an evening reception on March 13, 2013, at Medinah Banquets, in Addison. Former Illinois Speaker of the House of Representatives Lee Daniels was the keynote speaker.
The recipient companies and organizations will be profiled in a special publication of The Daily Herald Business Ledger published on April 15, 2013.
The AABEs, given for business achievement, growth and community involvement, are presented to outstanding businesses and non-profit organizations with a significant presence in the suburban circulation area of the Daily Herald Business Ledger (DuPage County, Fox Valley, NW Cook County, Lake County, West Cook County, Southwest Cook County and Will County.)
Awards were presented to 20 companies and not-for-profit organizations in the following categories: Small Company (0-50 employees); Medium Company (51-150 employees); Large Company (over 150 employees); Business Organization and Economic Development Entity; Architecture & Construction; Educational Institution, Entity or Program; Entertainment / Hospitality Company; Family Owned Business; Manufacturing; Minority-Owned Business; Innovation in Business; Not-for-Profit Organization (501)(c)(3); Retail; and Trade Association/ Professional Society.
The Daily Herald Business Ledger newspaper is the leading provider of business news and information about businesses and the economy in suburban Chicago. The Daily Herald Business Ledger hosts a series of seminars, conferences and awards programs throughout the year. The Business Ledger is a sister publication to the Daily Herald and part of the Paddock Publications family. For more information about events and sponsorships contact James Elsener, Manager of Business Development, at 630-955-3593 or e-mail at jelsener(at)dailyherald(dot)com
###