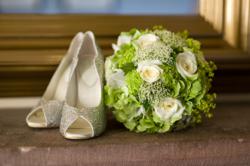 Newport Beach, CA (PRWEB) March 28, 2013
According to experts at Wedding.com, most celebrities shy away from putting their wedding in the limelight, usually citing that the occasion warrants a small, intimate affair to only be witnessed by close family and friends. That may not be the case with singer Brandy who is currently involved in wedding planning for her upcoming nuptials to music executive Ryan Press.
The singer reportedly told American talk show host Wendy Williams that she wishes she could invite her fans to her upcoming wedding, as many have supported her for years. Instead, Brandy is considering the possibility of televising her wedding as a way to get her fans involved (http://www.belfasttelegraph.co.uk/entertainment/news/brandy-wants-fans-at-wedding-29159215.html). Whereas most celebrities often prefer private affairs, a few would much rather have the world witness their celebration for different reasons, notes Wedding.com. Some want an over-the-top wedding while others seek publicity, and still others feel the moment should truly be shared with their fans.
"We cannot speak for Brandy, but she may well be the type of celebrity that feels her fans have a right to be involved, especially with all the support they have given her throughout the years," says Brett Reynolds, CEO of Wedding.com. "Either way, we are sure the wedding will be a beautiful celebration."
For more information about Wedding.com, please visit http://www.wedding.com.
About Wedding.com
Wedding.com is an innovative new website that connects engaged couples planning their wedding with wedding vendors looking to grow their business. Wedding.com contacts vendors for couples, giving them the power to compare and negotiate while ultimately saving time and money. With 12,000 couples and 22,000 vendors currently using the website, 105,000 proposals have already been sent since their inception. Vendors range in services from wedding planners, photographers, florists, and DJs to custom invitations, party favors, and much more. For additional information about the company and its services, please visit http://www.wedding.com.