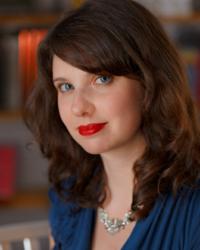 This particular program seemed to be a good match for me in terms of philosophy about what an agent can do for a writer.
(PRWEB) March 29, 2013
There's an important distinction to be made between a writer and an author, says Michelle Brower of the Folio Literary Management agency.
"That speaks to what I enjoy most about what I do," she said. "I love being the first person to get a peek at a new manuscript. It's an opportunity that can lead to the thrill of discovering a new writer whom I can help to become an author. Or it can be an opportunity to help an existing author further a career."
In either case the journey from promising manuscript to published book is a complicated one, full of twists and turns, and it is Brower's commitment to every aspect of that journey that has brought her—first of all—a new professional affiliation; and second, an important new client.
That affiliation? She has just been named to the advisory board of Southern New Hampshire University's low-residency MFA in Fiction and Nonfiction program. She joins on that board a number of other publishing industry luminaries—either other literary agents, or else editors at distinguished publishing houses—who help oversee the program, consult with its faculty, and advise its students on industry trends and practices.
And her new client? That would be an existing author, novelist Diane Les Becquets, who has penned such award-winning Young Adult novels as "Season of Ice" and "Love, Cajun Style," and who is also the director of the Southern New Hampshire MFA program.
Brower began her career as an intern at the Wendy Sherman Associates agency while she was working on a Master's in English at New York University. After earning her degree, Brower was hired full-time at that agency and worked there five years. In 2009 she joined Folio's stable of agents.
"There are 15 of us at Folio, which makes us midsized among literary agencies, but large enough to offer a full range of client services," Brower said. "Every contract we do is reviewed by a lawyer. We handle foreign rights in-house. We can provide website development, media training, access to marketing services."
At Folio, Brower's current clients include such authors as Rebecca Rassmussen, Tara Conklin, Cassie Alexander, S.G. Browne, Michelle Young-Stone, and Julia Wertz.
Meanwhile Les Becquets has set about furthering her career by heading off in a new artistic direction. Her two current projects are an adult literary novel and a nonfiction narrative. Brower is equally comfortable in either mode, and Les Becquets was impressed with Brower's performance on a panel—"Your Best First Novel," about debut fiction—at the Association of Writers and Writing Programs (AWP) conference held in Boston earlier this month.
"She showed the room that she was very knowledgeable about the industry," said Les Becquets, "and I liked the way she approached the agent-client relationship."
For Brower, that means involving herself in the manuscript as well as the person behind it. "She's approachable, ambitious, very savvy, and a hands-on sort of agent," said Les Becquets. "That means she's willing to brainstorm with you about the direction of your novel, to consider the effect of this sort of ending, or maybe another one. And I want that as part of my process as I try doing different things."
The author and the agent got to know each other at the AWP event. Brower asked to see Les Becquets' writing and then confessed herself "enamored." Les Becquets meanwhile saw an opportunity to add even more heft to her MFA program's advisory board.
"I actually met with a lot of MFA program directors at that conference," Brower said. "This particular program seemed to be a good match for me in terms of philosophy about what an agent can do for a writer."
In most cases—though not all—the students she will meet at Southern New Hampshire University will be writers, and not yet authors. "I'm hoping I'll be able to foster a sense of know-how about the industry, and a sense of access as well," she said. "That can be difficult if you're not living in New York City."
And with that, for the program's best students, Brower will begin the process of erasing that fine but important distinction between being a writer and being an author.