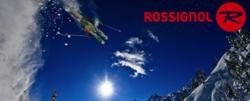 St. Paul, Minnesota (PRWEB) March 29, 2013
If there is one single trend to pin point in skiing, it's the movement away from one single type of ski on the market. Broad, but true, skis have evolved to the point where many skiers own at least a couple pairs of skis: a set for powder, one for backcountry missions and of course an all-round, can't-go-wrong pair of skis. The latest ski technology has created an explosive craze and desire for skiers to jump out of their comfort zone. Think skiing uphill instead of taking the gondola, faster and more direct lines down the slope, half-pipe, airborne tricks and boarder cross.
Ski Shapes
Backcountry skiers can now pinpoint a line and hit it with speed with fatter, longer and heavier skis. Throw in a few cliff drops without fear of getting stuck in a powder landing. Half-pipe, big air and boarder cross now have skis specifically designed to excel in such thrilling terrain. Rocker skis, the latest and greatest trend in skiing, is the new all-mountain ecstasy. Ski tips will stay lifted in powder and stability won't be a problem high speeds.
Ski Mountaineering
Free ski mountaineering, also known as backcountry ski mountaineering or ski touring, is a thrill seeking outdoor activity that is increasingly attracting a young crowd. Mountaineering skis have become fatter and wider, so that a few hours of uphill skiing with skins will warrant an adrenaline pumping downhill. Traditionally, clothing for such backcountry endeavors was made up of a lot of blue, red and black. Today, get ready to see a desolate mountainside spotted with bright orange, flecks of print and color blocking.
Volkl and Rossignol
Brands like Volkl and Rossignol have dedicated tremendous amounts of resources to keep skiing fresh, fun and on the cutting edge of technology. While more traditional graphics still exist, Volkl is known for edgy, poppy and eye-catching graphics. Trusted since 1923, quality and performance have always been the norm for Volkl. Rossignol has been in the ski manufacturing game for over 100 years. An innovative spirit with quality materials and craftsmanship are what makes Rossignol one of the most trusted names in skiing.
2013 Ski Sale
The House Outdoor Gear has the largest selection of skis, ski boots, ski bindings, and ski packages online. Effective immediately, 2013 skis and equipment are up to 40% off. The earliest shoppers will find the greatest variety.
About The House Outdoor Gear
Founded in 1982, The House Outdoor Gear continues to be a family run operation delivering the best products in the Action Sports and Outdoor arenas. Snowboard and ski equipment continue to drive the business with wakeboards, paddle boards, windsurfing gear, bikes, footwear, backpacks, performance and lifestyle clothing, goggles, helmets, sunglasses and watches trailing close behind. The House Outdoor Gear is committed to delivering the widest variety on the internet at the best possible prices.