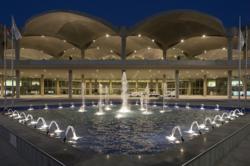 We are proud to be a part of this project considered a landmark partnership between the public and private sectors. It's an outstanding example of Louis Berger's Global Aviation reach and influence
Morristown, NJ (PRWEB) March 27, 2013
The Louis Berger Group, Inc. (Louis Berger) announced the successful transfer of full operations to the Queen Alia International Airport New Passenger Terminal Building in Amman, Jordan, marking one of the largest efforts in the history of the airport. Louis Berger provided operations monitoring support during the eight-hour overnight transfer.
Louis Berger is the engineering, procurement and construction independent engineer for the airport rehabilitation and expansion program on behalf of Airport International Group, a Jordanian consortium of companies, and the joint venture of Joannou & Paraskevaides LTD and J&P-AVAX S.A.
"We are proud to be a part of this project considered a landmark partnership between the public and private sectors. It's an outstanding example of Louis Berger's Global Aviation reach and influence," said Diego Rincón, Louis Berger's Global Aviation director.
Inaugurated by His Majesty King Abdullah II earlier this month, the new terminal increases the airport's capacity to handle approximately 9 million passengers annually, further expanding its role as a regional hub and tourist destination anticipated to boost economic growth and commercial trade in Jordan. Louis Berger provided independent engineering services for the first phase of construction of the new 100,000 square-meter passenger terminal building as well as improvements to existing airside and landside facilities.
Construction for the project began in November 2007. Demolition of the existing terminal and additional expansion of the new terminal will begin immediately as part of the project's next phase. In the second phase of the project, the terminal will be expanded to provide services for 12 million passengers. Louis Berger is providing quality oversight to certify engineering design, payments, completion dates and assure compliance with the construction contract requirements and international standards in all phases of the project.
About The Louis Berger Group, Inc.
The Louis Berger Group, Inc. is an internationally recognized consulting firm that provides architecture, engineering, program and construction management, disaster response/recovery, environmental planning and science and economic development services. We are a trusted partner to federal, state and local government agencies; multilateral institutions and commercial industry. To this diverse client base, we bring strategic vision and an entrepreneurial spirit, developing innovative solutions to some of the world's most challenging problems. With a resource base of more than 6,000 professionals and affiliate employees in more than 50 countries, we are able to respond to local conditions while providing clients with the technical resources and rapid response capabilities of a leading global organization.