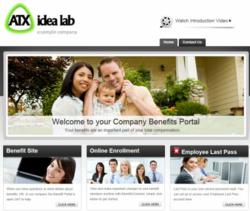 The new Wordpress platform provides clients with a more impressive, better-looking, easy-to-navigate benefit portal - and it's fully customizable to each client. - Jeff Hill, CEO
Austin, TX (PRWEB) March 28, 2013
AOR Technology has upgraded its signature product, client/employee benefit portals, to a new platform with enhanced design, functionality, and features.
The new portals feature updated design elements, including changeable color schemes, improved menu navigation, and robust security login control. The stable platform can accommodate a variety of plugins to increase its functionality even further. Clients can even make their own changes to the portal if they wish.
The new platform also makes it easy to offer custom demo portals at no cost. Having a custom demo site to present sets agents apart from the competition and helps impress potential clients. AOR Technology provides full support for all edits, changes, or new plan additions for all client sites so the client's staff is free to focus on their core business.
AOR Technology's goal is to help agencies improve the quality, accuracy, and effectiveness of the benefit technology they currently use. The new platform is a comprehensive solution for all sizes of agencies, and will be updated continuously to offer as new features are developed.
About AOR Technology
AOR Technology, Inc. custom designs HR and benefits websites and portals that simplify management, lower barriers to access, and promote effective communications. AOR Technology works with brokers and their employer groups to centralize benefits, payroll, and wellness resources on a single platform, which is accessible via a single sign-on feature, making critical information instantly available from any desktop, laptop, tablet, or mobile device with Internet connectivity. For more information, visit http://www.aortechnology.com.
####
For editorial information, contact:
Jeff Hill
AOR Technology
817-897-0947