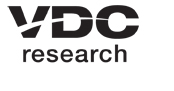 We see the rugged mobile market – best evidenced by developments in the handheld segment – in a state of transition.
Natick, Massachusetts (PRWEB) March 28, 2013
VDC Research (VDC), a leading M2M market intelligence firm that provides technology suppliers, product managers and engineering leaders with research-driven insights to help guide their product development and technology strategies, today unveiled highlights of recent research on the rugged mobile computing market. VDC has been covering the enterprise mobility market for over 20 years with detailed analysis and forecasts that are widely considered the leading authority on technologies that enable the mobile enterprise.
Before revealing highlights of this study, VDC's vice president of Enterprise Mobility, David Krebs made the following comment, "Our research shows that the overall rugged mobile computing market including rugged tablets, forklifts, notebooks and handhelds contracted slightly in 2012. We see the rugged mobile market – best evidenced by developments in the handheld segment – in a state of transition. While the need for rugged devices to support many business and mission critical processes remains strong, we feel there is a clear need for rugged vendors to reinstate their value proposition in the context of increased pressure from consumer devices with more modern OS platforms and addressing the perceived innovation gap. Reinforcing key benefits and requirements around sustainable development, lifecycle management and platform flexibility will be critical moving forward. We see modest improvements in market conditions in 2013."
Highlights of the VDC study, Enterprise & Government Mobility Hardware Rugged Mobile Quarterly Shipments Q4 2012 from our Strategic Insights 2012: Enterprise:

Rugged tablets was the only form factor that did not contract in 2012 and we expected it to continue to represent a growth catalyst.
Rugged handheld computers are seeing an increased pressure from smartphones and tablets as consumer-grade solutions are competing with rugged handhelds for certain applications. While Windows is the dominant OS for these devices, the transition from Windows Embedded 6.5 Handheld to Windows Embedded 8 Handheld is the cause for some confusion in the market and opening up near term opportunities for alternate platforms.
The rugged notebook segment has not been immune to broader industry trends, including some migration to more portable form factors such as tablets. The industry lost an iconic brand in 2012 with GD-Itronix's decision to discontinue its Itronix line of rugged notebooks and tablets.
The project-oriented nature of the rugged forklift market, when combined with end users evaluating tablets combined with mounting solutions, has resulted in a single-digit drop in revenues for 2012.
Consolidation continues to be a theme – especially in the more mature rugged handheld market. Recent transactions include Motorola Solution's acquisition of PSION, Honeywell's acquisition of LXE and Honeywell's pending acquisition of Intermec.
Join VDC Research on March 28th for an upcoming Webcast, M2M Meets Mobility: Considerations & Concepts. This complimentary program will address the issues associated with leveraging enterprise mobile assets within an M2M framework. To register, visit http://www.vdcresearch.com
ABOUT VDC RESEARCH
VDC Research is the leading market intelligence firm that provides engineering leaders and technology suppliers with research-driven insights to help guide their product development and technology strategies. Based on a unique blend of quantitative and qualitative analysis that offer granularity and breadth of coverage, VDC is organized around four practice areas, each with its own focused area of coverage. Together, they enable a unique 360-degree perspective of the opportunities and challenges resulting from The Internet of Things and M2M. For more information visit: http://www.vdcresearch.com