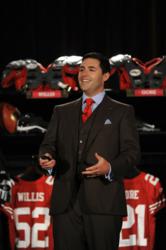 We are honored that Jed York, a prominent business and sports visionary in the San Francisco Bay Area will speak to our graduates on this special occasion.
Atherton, CA (PRWEB) March 28, 2013
"We are honored that Jed York, prominent business and sports visionary, will speak to our graduates on this special occasion," said President James J. Kelly. "Menlo College's ties to the 49ers go way back to when Buck Shaw and the team held their summer training camps on Menlo's campus from 1946 through 1954. They also held their regular season practices at the College from 1950 through 1954."
"In those days, the 49ers' practices were quite open, and we shared facilities, so we were thrilled when players like John Henry Johnson would give our players playing tips," recalled Chuck Shea, Menlo College alumnus and five-sport, stand-out athlete. He remembers practicing football at Menlo College 1954–1955 while the 49ers practiced on the adjoining field.
"It is especially fitting that York, a role model in athletics speaks to our graduates, because our College is a recipient of the NAIA Champions of Character award," said Kelly. Menlo College has earned the NAIA Five Star Champions of Character Award for the past three years. This award is based on character training, conduct in competition, academic focus, character recognition and character promotion. More than fifty percent of Menlo's student body participates in athletic programs and half of them are Dean's List scholars.
Jed York became CEO of the San Francisco 49ers in 2010. His promotion of Trent Baalke to General Manager and the hiring of Jim Harbaugh as Head Coach put the 49ers back in the playoffs after a ten-season hiatus. York spearheaded a successful ballot measure for the first LEED certified NFL stadium in 2010. He secured financing in 2011 and obtained $200M of NFL support for the Santa Clara stadium in February 2012. York graduated from Notre Dame with degrees in Finance & History. He sits on the board of Tipping Point Community and the Commonwealth Club.
Read more about Jed York on San Francisco 49ers Homepage
About Menlo College
Menlo College, Silicon Valley's Business School, was established in 1927. It is a private, four-year, accredited, residential business college located in Atherton, California. http://www.menlo.edu