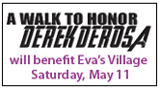 Paterson, NJ (PRWEB) March 28, 2013
A community fun walk/run held by Eva's Village in 2009 and 2010 to benefit the many programs provided by this comprehensive anti-poverty organization was suspended in 2011 due to complications with the event location. This year, Gail DeRosa, a dedicated Eva's Village volunteer has come to the rescue and is working to re-establish the event in honor of her son Derek, who lost his own battle with addiction in October, 2011. Mrs. DeRosa held a walk last year in his honor and donated the proceeds to Eva's Village. This year she decided to work with Eva's Village to make it an annual event in order to carry forward her son's caring and outgoing personality.
Mrs. DeRosa says, "Won't you walk with me on the day before Mother's Day, to benefit Eva's Village? We walk for the second year in honor of my son, Derek, who helped many others along the way but lost his own struggle with addiction at just 22 years of age. Let's get together and help provide support to the men and women who struggle with addiction. Thank you for your support!"
The Walk to Honor Derek DeRosa will benefit Eva's Village. It will be held at 9 am, on Saturday, May 11, 2013 at the Fairfield Recreation Complex, Fairfield, NJ. More information and registration is available at http://www.evasvillage.org.
Donna Fico, Director of Marketing & Education at Eva's Village explained that "this level of volunteer involvement is the heart and soul of Eva's Village, where people helping people overcomes hunger, homelessness, addiction and many other hurdles that keep people in poverty." She points out that Msgr. Vincent E. Puma, the Founder of Eva's Village recognized that if people were going to succeed in their recovery, it was necessary to provide everything they needed in addition to recovery services. Today, Eva's Village provides fourteen programs spread over a four-block campus in downtown Paterson, New Jersey and is widely recognized as the most comprehensive and one of the most successful anti-poverty programs in the state. In addition to food, shelter, medical and dental care, inpatient and outpatient recovery services, in 2009 Eva's Village established New Jersey's first Peer Driven Recovery Center. All of Eva's programs recognize that recovery support is an essential part of the continuum of care since addiction is a chronic disease and recovery is a long-term process that continues long after an individual leaves treatment.
Founded by Msgr. Vincent E. Puma in 1982 as a response to the poor and homeless in Paterson, New Jersey, Eva's Village (http://www.evasvillage.org) is a non-profit comprehensive social service organization with a mission to feed the hungry, shelter the homeless, treat the addicted and provide medical and dental care to the poor with respect for the human dignity of each individual. Eva's Village has grown from a simple soup kitchen to become the most respected anti-poverty program in the state of New Jersey and now includes fourteen integrated programs housed in numerous buildings spanning several city blocks in downtown Paterson.
To learn more about the addiction treatment programs at Eva's Village, their Recovery Center or to donate or volunteer, visit http://www.evasvillage.org.