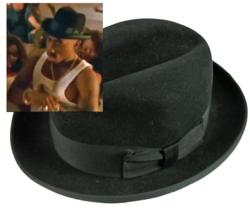 Scottsdale, AZ (PRWEB) March 28, 2013
Iconic Auctions, a leading auction house in the sale of autographs and memorabilia, will be auctioning over 700 lots of unique and rare items in their Spring 2013 Auction, which is scheduled to close this Saturday, March 30th at http://www.IconicAuctions.com.
Headlining the sale is a Biltmore Imperial homburg hat that was once owned and worn by West Coast rap legend Tupac Shakur in his controversial 1996 music video California Love. The hat is seen prominently in the video and was gifted by Tupac to Sharise Neil, the ex-wife of Motley Crue frontman Vince Neil. Included with the hat is a Letter of Authenticity direct from Neil explaining how she acquired the hat along with an airplane ticket stub from a trip that Neil took to Cabo San Lucas with Tupac and members of his Death Row Records crew.
Also featured in the auction is a business bank check signed by the most prolific songwriting duo in music history, John Lennon and Paul McCartney. The check, dated September 1, 1975, was drawn on the duo's Maclen Music Ltd account (a company formed by Lennon and McCartney to manage their song publishing rights and royalties) and is made payable to John Lennon £96,154--which with inflation would equate to over $1,000,000 today! To date this stands as the only known publishing check made payable to John Lennon to ever surface in public.
Other notable items that are up for grabs in the auction include a 1794 Three-Language Ship's document signed by George Washington, Roberto Clemente's signed 1965-66 Puerto Rican League contract, Kobe Bryant's game worn Lakers Jersey from the 2007-08 NBA Season, a Michael Jackson hand drawn and signed self-portrait sketch from 1985, and a Thurman Munson signed Yankees payroll check from 1973.
All 700-plus lots featured in this auction sale will close this Saturday, March 30th via the company's online auction website, http://www.IconicAuctions.com.
For additional information, please contact Jeff Woolf, President of Iconic Auctions, at 1-800-325-7127.