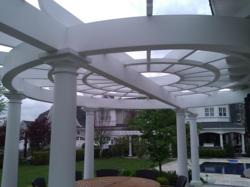 Millville, NJ (PRWEB) March 29, 2013
A pergola architecturally defines an outdoor living space and provides much needed shade on those bright summer days. Pergolas can be attached to the home or can be free standing. There are many types of pergolas to choose from including traditional, arched, pitched and gabled. Based on a 2013 survey of residential landscapers, pergolas are a preferred design element to most other types of outdoor shades.
INTEX Millwork Solutions Engineered Pergolas are made out of cellular PVC and are engineered to meet international building codes. INTEX pergolas are maintenance free and will not weather, rot or be destroyed by insects. For more information or free design assistance, visit http://www.intexmillwork.com.
About INTEX Millwork Solutions
INTEX Millwork Solutions specializes in the manufacture of high quality, maintenance free architectural millwork products. In addition to their standard product offering, their technical capabilities make them the 'go-to' company for those difficult projects that require job specific engineering and design assistance. INTEX's strength in both traditional workmanship and engineering technology crafts intricately detailed, high-quality millwork for distinctive homes and buildings.