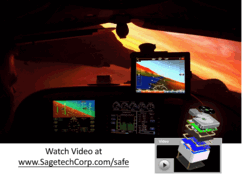 Hood River, Oregon (PRWEB) March 28, 2013
Sagetech is offering both models of its new receiver for sale now on its website: the baseline Clarity, with both 978 and 1090 MHz receive channels, priced at $1,150, and the fully-featured Clarity SV which includes a synthetic vision AHRS (attitude heading reference system), priced at $1,400.
"At last, customers have a high-end option," remarked Sagetech President Kelvin Scribner. "Clarity is all about design. Clarity is all about engineering. Clarity is the absolute finest ADS-B receiver, and I am extremely proud of the Sagetech team for producing this work of art. Most of all, I'm delighted to delight our customers, those who know the value of safety and the very best."
Clarity ADS-B receivers offer a remarkable array of features in a portable unit smaller than a hockey puck. A video on the Sagetech website, SagetechCorp.com/safe, uses animation to reveal the impressive inner workings of Clarity and the innovative technology it brings to the General Aviation marketplace.
Both Clarity models include:

Dual-Link ADS-B data receiver (978 MHz, 1090 MHz)
Free in-flight weather (NEXRAD radar, PIREPS, forecasts and more)
Data Burst Technology to buffer ADS-B messages while the iPad sleeps
Sagetech360 Internal Phased Array Antenna for superior omni-directional performance
WAAS GPS
No wires; stand-alone operation
Up to 8 hours of battery operation, or operate/charge in flight
Open compatibility, supporting WingX, Mountain Scope, Sky Vision Global Nav Source and all other participating EFB app software
Wi-Fi connection to iPad or other tablet.
Sagetech's new Clarity ADS-B receiver ushers in a new, safer era of flight, giving pilots convenient and affordable access to in-flight traffic and weather data, which until recently was only available through paid subscription. Clarity receivers work with iPad charting apps, which are finding huge popularity among pilots, replacing paper charts with easy and convenient electronic chart downloads.
About Sagetech Corporation
Sagetech Corporation has been a disruptive innovator in miniature avionics since 1998. Their tiny aviation transponders transformed how small unmanned aircraft are employed by making them visible to ATC radar. Sagetech's Clarity ADS-B receivers provide unprecedented integration for the general aviation marketplace. Founded in 1998, Sagetech operates out of four facilities in Hood River, Oregon and White Salmon, Washington. More information is available at http://www.SagetechCorp.com.