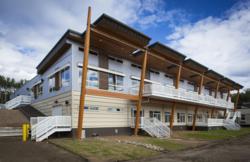 (PRWEB) March 28, 2013
At its 30th Anniversary World of Modular convention, the Modular Building Institute presented awards for this year's best modular buildings and honored industry leaders for individual achievement. A prestigious panel of judges scored building entries on a number of criteria, including architectural excellence, technical innovation, cost effectiveness, energy efficiency, and calendar days to complete.
Judge's Choice, the highest scoring of all entries, went to ATCO Structures & Logistics for their MEG Energy Christina Lake Lodge in Conklin, Alberta, Canada. The workforce lodge combines quality materials and fine craftsmanship to create the look and feel of a high-end ski lodge. The core facility features wood and metal inlays throughout and includes fireplaces, a theater, recreational center, meeting rooms, first-class fitness facility and offices.
Other notable awards included Mercy Hospital, which received First Place in the Permanent Healthcare category. Built in just 8½ months by Walden Structures after a tornado destroyed the original hospital in Joplin, Missouri, the acute care facility not only exceeds International Building Code requirements, but is also 30 percent stronger than the facility it replaced.
Triumph Modular took First Place for Renovated Reuse, which involves recycling an existing building. The winning Solar Studio in Osterville, Massachusetts, incorporates energy efficiency, sustainability and adaptability, and boasts a striking contemporary appearance.
Chabad of Monsey, a private girls' school built in Airmont, New York, by Nadler Modular Structures, received First Place for Permanent Education (Over 10,000 Square Feet). With its site built roof façade, entry porches and stucco siding, the 25,000-square-foot school blends seamlessly into a wooded lot surrounded by private traditional homes.
Conference attendees helped select some of the winners by voting during the event for Best of Show in the following categories:
Permanent Modular – Champion Commercial Structures for Coal Yard Apartments, Ithaca, N.Y. – a four-story student residence designed to match architecturally to existing buildings.
Relocatable – Britco for Aviara Sales Centre, Burnaby, British Columbia – a pre-construction presentation center designed to showcase a state-of-the-art, master-planned residential high-rise community.
Renovated Reuse – ATCO Structures & Logistics for Tecno Fast ATCO Rental Office, Santiago, Chile – a new office facility made out of recycled units from their rental fleet.
Green Building Design – Silver Creek Industries for First Solar - AV Solar Ranch One, Antelope Valley, California – a Net Zero building that houses the operations and maintenance team of a solar site that will produce sufficient electricity to support the annual energy needs of approximately 75,000 homes.
Marketing – M Space Holdings for their renovated company website.
The complete list of winning projects can be seen on MBI's website.
The well-respected volunteer judging pool included Robert Cassidy, Editor-in-Chief, Building Design + Construction Magazine; Mohamed Al-Hussein, PhD, PE, Associate Professor, Department of Civil & Environmental, Engineering Hole School of Construction, University of Alberta; Lorenz Schoff, PE, President, Energy Efficient Solutions; David Corson, Editor/Publisher, Commercial Construction Magazine; Kelsey Mullen, Director, US Green Building Council; and Dru Meadows, AIA, President, The Green Team.
MBI also gives an Outstanding Achievement Award annually to an individual in honor of their special contribution and service to the commercial modular construction industry, along with a Volunteer of the Year honor to a devoted volunteer. The association also inducts one or more industry leaders into the Hall of Fame for their long-term dedication to the industry. Marty Mullaney, CEO of Satellite Structures received Outstanding Achievement, and Bill Haliburton, VP of Manufacturing for ATCO Structures & Logistics was named Volunteer of the Year. Inducted into the Hall of Fame were Thomas Arnold, Chairman of T.R. Arnold and Associates, and, posthumously, Floyd Bigelow, Founder of Porta-Kamp.
MBI presents its Awards of Distinction at the closing banquet of World of Modular, its annual convention and trade show, held this year from March 16-19 at the Westin Kierland in Scottsdale, Arizona. A record 550 attendees from 15 countries attended educational sessions, networked, and visited a sold-out exhibit hall of suppliers for the commercial modular construction industry.
About MBI
The Modular Building Institute is the international nonprofit trade association that has served the modular construction industry for 30 years. Members are suppliers, manufacturers and contractors involved in all aspects of modular projects -- from complex multistory solutions to temporary accommodations. As the voice of commercial modular construction, MBI expands the use of offsite construction through innovative construction practices, outreach, education to the construction community and customers, and recognition of high-quality modular designs and facilities. For more information on modular construction, visit http://www.modular.org.