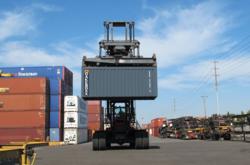 CakeBoxx intermodal shipping containers offer significant advantages to shippers, particularly in terms of enhanced security, side loading efficiencies and streamlined inspections at ports.
McLean, Virginia (PRWEB) March 28, 2013
CakeBoxx Technologies, developer of the CakeBoxx doorless intermodal shipping containers, today announced a strategic partnership agreement with ConGlobal Industries, Inc., the largest full-service supplier to the intermodal industry in North America. As part of the agreement, ConGlobal will provide a range of depot, container yard and transportation services for CakeBoxx Technologies throughout the US and Mexico. The agreement will allow CakeBoxx Technologies to offer shippers and carriers access to strategically located transportation hubs for storage, repair and maintenance of their CakeBoxx containers.
The unique CakeBoxx line of patented, doorless intermodal cargo shipping containers offer secure, cost-effective and damage-resistant container options for the global shipping and transportation market. Being part of the ConGlobal network will enable CakeBoxx Technologies to utilize ConGlobal's transportation services, giving shippers and carriers easy access to local industry, warehouses, ports and intermodal rail yards.
"Now that CakeBoxx is in the marketplace and poised for growth, it is only natural for us to begin the process building relationships that will support us in the field and be responsive to our customers' needs," said Daine Eisold, CEO of CakeBoxx Technologies. "ConGlobal Industries was an easy choice for us to make. They are the largest, most capable and most well-respected container depot operator in the country. Working with Mike Baldwin and his outstanding team is truly an honor for us and we couldn't be more excited to call CGI our partner," Eisold added.
"CakeBoxx intermodal shipping containers offer significant advantages to shippers, particularly in terms of enhanced security, side loading efficiencies and streamlined inspections at ports," said Mike Baldwin, CEO of ConGlobal Industries. "ConGlobal welcomes the opportunity to be involved with CakeBoxx as they introduce this unique CakeBoxx design as an answer to a market segment that has not had many options when it comes to protecting against cargo theft as well as an excellent option for shippers and transloaders that have had to put irregular shaped cargoes through the door end of a traditional container."
All CakeBoxx containers are ISO-compliant and fit seamlessly into all intermodal processes, including stacking, storage, terminal transfers and ship, rail and truck haulage. The lid is raised and lowered by all standard container handling equipment commonly used at ports and cargo-loading facilities. The CakeBoxx container product line includes:

CakeBoxx Standard – standard 20' and 40' CakeBoxx models for dry cargo,
FreshBoxx – an insulated version of the CakeBoxx that maintains the temperature of temperature sensitive cargos for up to 72 hours without costly mechanical refrigeration equipment,
ShortBoxx – a half-height CakeBoxx that can be double-stacked in the same space as a traditional container, making it ideal for shipping heavy and drum cargo, and
CustomBoxx - the unique, doorless design of the CakeBoxx makes it highly customizable to meet unique, user-defined shipping and storage needs.
About ConGlobal Industries, Inc.
ConGlobal Industries, Inc. is North America's largest full-service supplier to the intermodal industry, providing depot services, equipment sales and transportation services. ConGlobal provides equipment repair, maintenance, storage and redistribution services to global shipping lines and leasing companies. ConGlobal is also a leading retailer of standard and modified equipment in new and used condition to consumers, corporations, and government and military institutions. Additionally, ConGlobal provides transportation services to reposition equipment and manage large or special delivery projects. The company is built on a network of 20 locations in the U.S., Mexico and Costa Rica. For more information, visit: http://www.cgini.com.
About CakeBoxx Technologies
CakeBoxx Technologies designs, builds, markets, licenses and sells the patented CakeBoxx line of cargo shipping containers to the global intermodal transportation market. The company provides a premium quality product line for high-end, high-throughput customers who want to ensure maximum safety, security and efficiency from stuffing point to end-user. The patented CakeBoxx two-piece (doorless) construction is an innovation in the container industry. For more information about CakeBoxx containers, visit: http://www.cakeboxx-technologies.com. For investor queries, please contact Daine Eisold at: daine (at) CakeBoxx-technologies (dot) com or 703-869-3336.