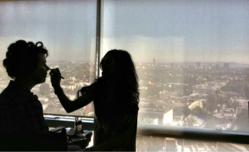 I can't believe this is happening to me!
San Diego, CA (PRWEB) March 28, 2013
JustLuxe has announced Jenna Petardi as the winner of the "Mingle with the Masters" Sweepstakes, which was part of an online promotion introducing the all-new 2013 Lincoln MKZ. A follower of fashion news, Jenna was thrilled to learn that she had won.
As a luxury guide to the best that life has to offer, JustLuxe created a fashion sweepstakes package that combined a variety of different elements for one lucky winner and a guest.
Flown to Los Angeles and chauffeured to West Hollywood, excitement escalated as Jenna and her boyfriend Don checked into the elegant and modern Andaz West Hollywood. Here she was greeted with a welcome package of Fashion Week essentials.
In addition to airfare, and car service for the trip, Jenna received a $500 La Prairie spa treatment, a pre-paid credit card for meals, as well as a shopping card worth $1,000. JustLuxe partnered with Project Ethos to provide Jenna and Don with the ultimate in LA Fashion Week experiences.
Professional makeup artist Naomi Marin was on hand to help Jenna get ready for the show and Randy Madden and Kristen Urlacher from Salon Sessions Studio created a chic updo hairstyle for Jenna.
"I can't believe this is happening to me," Jenna said.
Jenna and Don arrived at Avalon Nightclub for the show, which included live art features and musical sets, as well as stunning body painting. Lily Galichi from America's Top Model and Bravo appeared on the catwalk.
Jenna said that her favorite part of the show was the encore featuring designers T. Rain and Andrew Christian.
About JustLuxe
JustLuxe is the Affluent Lifestyle Guide for affluent consumers that want to find the best in food, travel, fashion and autos. The site features detailed information about products and services including interviews with executives and people with specific expertise. Please visit JustLuxe to find out more details.