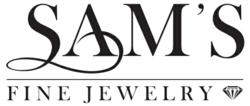 "I was extremely excited that it rained on my client's, Michael and Lara, wedding day!" - Seema Patel
Dallas, TX (PRWEB) March 28, 2013
Sam's Fine Jewelry located in Garland, Texas, joined forces with SCA Promotions to develop the "Pray for Rain" contest for single & engaged couples with wedding dates in March. On March 9, 2013, Michael and Lara David became the first lucky winners of the promotion.
Customers who bought engagement rings or wedding bands from Sam's Fine Jewelry are eligible for the Pray for Rain promotion. The grand prize is a full rebate, up to $5,000, if it rains at least one inch on their wedding day within a 12-hour timeframe. Lara David purchased a crown ring men's designer wedding band in February, entering the couple into the contest. The Davids, who married at the Omni Park West in Dallas, endured severe thunderstorm warnings, hail and received more than an inch of rain over the majority of the day.
Seema Patel of Sam's Fine Jewelry assisted Mrs. David in her selection of the wedding band.
"I was extremely excited that it rained on my client's, Michael and Lara, wedding day! It was really great being able to contact them to let them know that they were winners, and being able to hear the excitement in their voices. Michael told me, 'We were actually just opening wedding gifts and this is great news!' This is one of the great joys of working in the jewelry business and being involved in so many occasions and emotional moments in our clients' lives," Patel said.
SCA Promotions provided the promotional risk coverage for the Pray for Rain contest that runs through March 31.
"Rain on your wedding day is usually seen as bad luck. We like that we can provide couples with the opportunity to see it differently – maybe even something to look forward to," said Victor Banuelos, Account Executive at SCA Promotions.
If you're interested in partnering with SCA Promotions for an event or promotion, contact SCA online at http://www.scapromotions.com or by phone at 1-888-860-3770.
###
About SCA Promotions
Dallas-based SCA Promotions delivers promotional solutions and incentives that connect with consumers, without risk to the sponsor. For more than 26 years, SCA has offered an entire suite of advanced, interactive promotions, instant win promotions, record-breaking sweepstakes, and inventive games designed to engage and motivate. SCA has covered billions of dollars in prize coverage and paid out more than $177 million in cash and prizes for sales and consumer product promotions, lottery and casino jackpots, radio contests, direct mail, Internet, and sports promotions. SCA has offices in Dallas, London, Las Vegas, and Calgary, with affiliate partners across the globe.