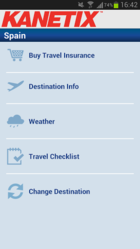 KANETIX recognizes the growing demand of customers looking to comparison shop on their mobile device.
TORONTO, ON (PRWEB) March 28, 2013
Consumers can now compare and purchase travel insurance from their Android on the go. The easy-to-use app, gives users the opportunity to compare up to five travel insurance quotes and the ability to purchase coverage while on the go. The app features travel insurance quotes for a variety of travel policies, from annual multi-trip policies to single-trip policies, as well as trip cancellation insurance and all inclusive coverage.
"KANETIX recognizes the growing demand of customers looking to comparison shop on their mobile device, and our latest app fulfills that demand when it comes to travel insurance," said Janine White, Vice-President, KANETIX.ca. "The KANETIX travel app gives consumers the ease of finding the lowest rates for travel insurance while providing optimum convenience."
The KANETIX Travel App provides travel quotes from many of Canada's best-known providers and gives consumers the opportunity to save their quote details for convenient repeat visits.
The app also lets users check the weather of destinations around the world, provides a travel checklist of essentials, and lists popular attractions and landmarks to visit while abroad.
This app, along with all of its functionality, is also available to iPhone users. To download the app to your iPhone or Android smartphone, go to KANETIX.ca or visit the Google Play Store or Apple App Store and search for "KANETIX."
About KANETIX®
Launched in October 1999, KANETIX was Canada's first online insurance marketplace and today provides over a million quotes per year to consumers looking for insurance, as well as comparisons for mortgage rates and credit cards.
The KANETIX comparison service is a one-stop shopping environment for consumers. Each day, thousands visit the KANETIX website at http://www.KANETIX.ca to comparison shop their various financial needs. Shoppers choose what they want to compare, obtain a quotation and complete an online application or, with the help of KANETIX connect with the provider to purchase or apply for the product over the phone.
Through its Software as a Service team, KANETIX is also the leading provider of online insurance quotation technology, developing online quotation systems, mobile solutions, actuarial tools and websites for many of Canada's largest insurance brands.