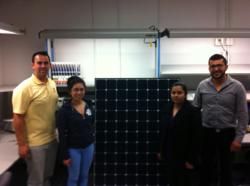 This will allow students to get hands on experience with photovoltaic technology and help prepare them for a bright future in the solar industry.
San Diego, CA (PRWEB) March 27, 2013
Sullivan Solar Power, one of the California's largest renewable energy providers, is working with San Diego State University (SDSU) electrical engineering students on a senior design project. Through a partnership with Sullivan Solar Power and San Diego Gas and Electric (SDG&E), a mobile trailer is serving as an incubator for solar technology research on campus.
"In recognition of SDSU's ongoing commitment to renewable energy and sustainability, we are pleased to provide their electrical engineering department solar modules to use in experiments," said Daniel Sullivan, founder and president of Sullivan Solar Power, "This will allow students to get hands on experience with photovoltaic technology and help prepare them for a bright future in the solar industry."
Sullivan Solar Power is providing a group of students, called "Growing in Solar," guidance and counsel on a weekly basis to analyze the design and implementation of solar technology. The locally headquartered company has provided students two sets of solar panels, both newer Sunpower panels and an older model of Sharp solar modules for research.
"Sullivan Solar Power has donated panels comprised of both mono-crystalline and poly-crystalline cells, to allow students to compare and contrast the electrical characteristics and efficiencies of each technology," said Jonathan Gibbs, the Sullivan Solar Power project manager and Aztec alumni who has been providing the students expertise for their project weekly at the trailer site.
The SDSU students are working toward building a permitted solar power system atop a trailer facility. The trailer project, sponsored by SDG&E and Sullivan Solar Power, will serve as a long term educational project for multiple generations of engineering students at the university. Sullivan Solar Power will be donating solar panels, inverters, a battery system and a car charging station for students to learn how to install. The research and training trailer facility will promote energy efficiency by showcasing different sustainable technologies and green features.
"Senior design projects mean a lot to our students because they provide hands-on experience with energy technologies that the students are able to then share with our larger community at the end of the semester," said Dean of Electrical Engineering, , Dr. Lal Tummala, "It is really nice for a private company to participate and bring real-world knowledge to the classroom through mentorship."
About Sullivan Solar Power
Sullivan Solar Power is a turnkey solar system provider that delivers solar electric projects from concept to completion. The company has installed over 14,000,000 watts of solar power ranging from small-scale residential to large-scale commercial and municipal systems. Sullivan Solar Power is headquartered in San Diego, CA and owned and operated by Dan Sullivan. Sullivan Solar Power has a longstanding A-plus rating with the Better Business Bureau, with no complaints filed since the business began. The firm has been named one of the fastest growing energy companies in the nation by Inc. Magazine for three consecutive years and services all of Southern California. Regardless of project size and scope, Sullivan is committed to delivering the best products and the most qualified professionals to its customers. Visit http://www.sullivansolarpower.com for more information.