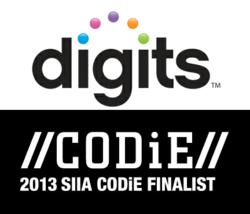 New York, NY (PRWEB) March 28, 2013
digits, Pearson's interactive, Common Core aligned digital math curriculum for grades 6-8, is a finalist in the prestigious 2013 Software & Information Industry Association (SIIA) CODiE Awards. digits is recognized in the Best Mathematics Instructional Solution category.
Established in 1986, the CODiE Awards celebrate outstanding achievement across the software, digital information and education technology industries. This year, nominated ed-tech products underwent an intensive review by educator judges from around the world.
Written entirely to the Common Core State Standards, digits integrates lesson planning, homework management, intervention and assessment, all within a user-friendly design that encourages collaboration via interactive whiteboards. digits streamlines instruction through point-of-need resources that are intuitive for teachers, optimizing effective time on task, and allowing them to address the individual needs of every student – in and out of class. In addition to providing a customized learning path for each student, these efficiencies result in about twice as much instructional time for teachers, when compared with traditional middle school math courses.
digits engages middle grades math students with a constant focus on real-world-based learning – not only with the structure of the problems within, but also with "student guides." Called "Understanding by Design®* hosts," guides steer learners through each lesson in a humorous fashion and help deepen their understanding of mathematical concepts. These hosts pop up in videos embedded in the lessons where they use humor and joke-telling while explaining concepts to students.
Pearson topped the 2013 CODiE Awards for education with 14 programs earning finalist honors. From classroom management and teacher professional development to virtual and mobile personalized learning solutions, Pearson's CODiE finalists are a testament to its commitment to developing innovative education technology solutions that improve student achievement.
In addition to digits, Pearson's products moving on to the next round of competition in this year's CODiE Awards include EQUELLA, iLit, Lab Investigator Tools, MyEconLab with Knewton Adaptive Learning, MyFoundationsLab, MyMathLab with Knewton Adaptive Learning, OpenClass, Pearson Teacher Compass Suite, Pearson iBook2 Textbooks, PowerSchool, Prep for the GED Test: MyFoundationsLab Edition, Propero and Schoolnet.
digits and all of Pearson's finalists will now be voted on by the entire SIIA membership to determine the winners in each category. The 2013 CODiE Award winners will be announced at the 2013 Ed Tech Industry Summit in San Francisco on May 6.
For more information about digits visit: http://www.digitsmath.com.
About Pearson
Pearson, the world's leading learning company, has global reach and market-leading businesses in education, business information and consumer publishing (NYSE: PSO).
*Understanding by Design® and UbD™ are trademarks of ASCD®, and are used under license. For more information about the UbD™ Framework, visit ASCD's UbD™ resource page at http://www.ascd.org/research-a-topic/understanding-by-design-resources.aspx.