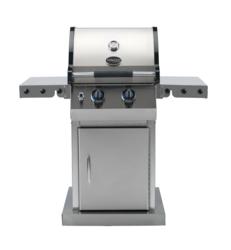 PARIS, Ky. (PRWEB) March 28, 2013
To kick off the summer grilling season, Vermont Castings, maker of top-rated, U.S.-made gas grills, is firing up its new Tribute Series line. Tribute Series grills offer high-end features in an everyday grill that will turn homeowners into culinary pros. From searing to smoking, Tribute Series grills make it easy to master a variety of cooking methods and create any desired meal.
"Our Tribute Series grills are the perfect option for homeowners who like to fire up the grill many times a week to prepare quick and delicious meals for the family," said Ron Smith, grills program manager for Vermont Castings. "The high-end features were designed with convenience in mind so the great tasting food can be prepped, perfectly prepared and served right at the grilling station."
Durable Construction, Convenient Design
The Tribute Series' stainless steel construction resists rust and offers a modern look, and its cast iron, porcelain coated grates and a wire warming rack provide even heat distribution at consistent temperatures. These reversible grates are rounded on one side to cook juicy foods like burgers and steaks, and flat on the other for more tender foods like fish.
Drop down side shelves provide an easy food-prep area, while stainless steel sear plates redirect grease and juices away from flames to prevent flare ups. For a quick start, the EasyFlame ignition easily lights the first time, every time. Vermont Castings-exclusive cast iron end caps and an extra deep firebox help maintain heat to lock in natural flavors and juices and keep food moist.
The Tribute Series line offers two model options. The 223 Tribute Series grill features two burners, 26,000 BTUs (British Thermal Units) and 502 square inches of cooking space to accommodate meals for the entire family at once. The 323 Tribute Series grill is even more powerful with three burners, 39,000 BTUs and 629 square inches of grilling area.
Signature Series Offers Luxury Features
For homeowners looking for a grill that will serve as the centerpiece of their outdoor living area, Vermont Castings' Signature Series steals the show for outdoor entertaining. These top-rated grills are available in three-, four- or five-burner models and include all of the high-end features of the Tribute Series with even more cooking space and power.
"Our Signature Series grills go beyond the performance of an ordinary grill to let users create restaurant-style meals in their own backyard," said Smith. "It offers grilling enthusiasts all of the cooking features they could want in a top-of-the-line, high-quality design that's built to last."
Tribute Series gas grills range from $599 – $799, while Signature Series Grills range from $1,399 – $2,499. Both are available at independent specialty retailers. For more information about Vermont Castings products, consumers can visit http://www.vermontcastings.com/.
About Vermont Castings Group
Vermont Castings Group is a leading supplier of hearth and grill products throughout North and South America, Asia and Europe. Under its four brands, Vermont Castings, Majestic, Monessen and Ambient Technologies, Vermont Castings Group offers a full line of direct vent, natural vent, vent-free, wood-burning and electric fireplaces, inserts, log sets and stoves as well as outdoor grills and heating products. Vermont Castings Group is proud to be on the cutting edge of design, efficiency and environmental responsibility.