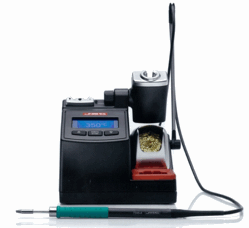 JBC's New CD-1BC – everything you loved about the CD-1BB + an external USB port for adaptable soldering parameters
Bound Brook, NJ (PRWEB) March 28, 2013
Janel Inc., a premier distributor of soldering products for the production assembly, electronics manufacturing, and soldering industries, is pleased to announce that their ever-growing inventory now includes the newest soldering stations from JBC Tools – the CD-1BC and CD-2BC.
These top-of-the-line soldering stations feature the latest technology including a USB connector for PC integration and an intelligent sleep mode that saves electricity and makes the work environment safer.
Product Features of the New "C" Version JBC Tools Soldering Stations
JBC Tools built off of the success of their "B" model versions to create the new and improved "C" version of their popular Compact Series Soldering Stations. The JBC CD-1BC 120V soldering station was modeled after the CD-1BB while the JBC CD-2BC 230V soldering station was developed from its predecessor the CD-2BB. Both are designed for general electronic applications and can be used for every day soldering needs.
Features of the NEW "C" Version Include:

USB connector for PC integration
Sleep and hibernation modes – increases tip life, reduces electricity consumption and improves workplace safety
Non-rotating cable collector
Adjustable parts
Of the latest updates, the USB connector promises to deliver the biggest advantages for the end user. Having the USB connectivity allows users to perform a wide range of tasks that make soldering jobs easier than ever before.
USB Connector Capabilities:
Update station software
Create graphs of the soldering process
Manage and monitor parameters via your PC
Features of the parent "B" models are still included in the new "C" versions:
Graphic display shows important information, with changes to the original settings easily made via menu on the display
Integrated parameter programming enables memory of up to 5 temperatures
Process control enforces temperature limits, analyzes usage, and blocks the keypad with a PIN, program sleep, or hibernation mode
Adjustable stand allows for quick and easy adjustment of stand angle with no additional tools required
Janel Inc. is proud to partner with JBC Tools to bring their customers the very best soldering products on the market. These updated and improved JBC soldering stations deliver the latest technology along with unrivaled functions and features that have made previous models such a success.
To get more information on the JBC CD-1BC and JBC CD-2BC soldering stations, view product videos or download reference guides, please visit: JanelOnline.com
About Janel Inc.:
Janel Inc. has been supplying the solder, production assembly and electronics manufacturing industries with premium solder solutions since 1961. The company became incorporated in 1963 and has steadily grown its inventory over the last 50 years to include the distribution of more than 140 top manufacturers including JBC Soldering Tools, Kester Solder and Excelta. Janel Inc. has gained a worldwide clientele base, earning recognition as a JBC Tools direct distributor, a "Premier" Desco Focus Distributor and the largest woman-owned single stocking distributor in the Northeast.