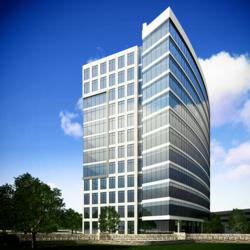 "The office tower is designed to appeal to the next generation office worker that doesn't do business exclusively from a desk," said Don Powell, principal of BOKA Powell.
Plano, TX (PRWEB) March 28, 2013
Granite Properties announced the groundbreaking today for a speculative office tower and the four-star, 299-key Hilton Granite Park conference hotel. Both projects are designed by BOKA Powell architects and slated for completion in mid-2014. Granite Properties has engaged Woodbine Development as a consultant on the hotel. The two new structures are part of the existing 90- acre mixed-use development located at the Sam Rayburn Tollway (S.H. 121) and the Dallas North Tollway in Plano, Texas.
The 12-story, 300,000-square-foot Class A office tower, known as Granite Park IV, is being built to achieve LEED Silver certification, featuring energy efficient building systems, unique exterior lighting elements, as well as a fitness center, conference space and a five-level garage. The building is surrounded by extensive landscaped walkways and water features that connect to the adjacent buildings.
"The office tower is designed to appeal to the next generation office worker that doesn't do business exclusively from a desk," said Don Powell, principal of BOKA Powell. "The ground floor offers a corporate living room environment, with a coffee-shop-style lounge area to foster collaboration. The facility is designed with greater connectivity than ever, so that employees can easily work from the courtyard or a lounge seat."
The 262,500-square-foot Hilton Granite Park conference hotel includes 299 luxury rooms and 35,000 square feet of conference space, a full-service restaurant, retail shop, a fitness center and outdoor pool and lounge. The lobby includes a large bar area and a unique, multi-purpose technology lounge. The hotel's interior design blends the region's agrarian history with modern amenities that will appeal to business travelers. The guest rooms and bathrooms incorporate upscale finishes and lighting, with stone countertops, custom sinks, lighted mirrors and a mosaic back-lit tile. A pedestrian boardwalk along the waterfront connects the hotel to its conference center and surrounding office buildings.
"We are delighted that Granite Properties has chosen the Hilton flag for its premier hotel," said Timothy Benolken, senior vice president – Operations Western North America, Hilton Worldwide. "This project represents a homecoming of sorts as our founder, Conrad Hilton, opened his first hotel 94 years ago not far from here in Cisco. We look forward to welcoming guests with Texas-sized hospitality."
"We're excited about this expansion of Granite Park and the chance to work with such an iconic brand as Hilton," said Granite Properties COO, Greg Fuller. "The nexus between Plano's shortage of conference space and the office market conditions presented a unique opportunity for us to move forward with Granite Park's master plan."
Granite Properties is the owner and developer of both the office tower and hotel, and BOKA Powell served as the design architect, the architect of record and the interior designer for both properties. Austin Commercial is the general contractor for the hotel and Balfour Beatty Construction is the general contractor for the office tower.
About Granite Properties
Granite Properties is a privately held commercial real estate investment and management company with offices in Atlanta, Dallas, Denver, Houston and Southern California. Since 1991, Granite Properties has acquired or developed more than 20 million square feet of commercial real estate totaling $3.4 billion. With a primary emphasis on office properties and an unusually long-term view, Granite Properties places a high priority on creating exceptional work environments for its customers while conserving natural resources. http://www.graniteprop.com
About Hilton Hotels & Resorts
One of the most recognized names in the industry, Hilton Hotels & Resorts stands as the stylish, forward thinking global leader in hospitality. From inaugural balls and Hollywood award galas to business events and days to remember, Hilton is where the world makes history, closes the deal, toasts special occasions and gets away from it all. The flagship brand of Hilton Worldwide continues to build upon its legacy of innovation by developing products and services to meet the needs of tomorrow's savvy global travelers while more than 144,000 Team Members shape experiences in which every guest feels cared for, valued and respected. Today, the Hilton Hotels & Resorts portfolio includes more than 550 hotels in 80 countries and the brand remains synonymous with "hotel." Access the latest Hilton news at news.hilton.com or begin your journey at http://www.hilton.com. Social media users can engage with Hilton at http://www.twitter.com/hiltonhotels, http://www.facebook.com/hilton and http://www.youtube.com/hilton. Hilton Hotels & Resorts is one of Hilton Worldwide's ten market-leading brands.
About BOKA Powell
BOKA Powell (http://www.bokapowell.com) is a nationally recognized architectural design, planning and interior design firm, with office locations in Dallas, Fort Worth and Austin, TX. BOKA Powell's areas of focus include commercial office, hospitality, health care, higher education, multi-family and mixed use planning and design. The build-out at Granite Park is being executed based on a master plan created by BOKA Powell. BOKA Powell designed Granite Park's other office towers, known as Granite Park I, II and III.
About Balfour Beatty Construction
An industry leader for more than 80 years, Balfour Beatty Construction provides general contracting, at-risk construction management, and design-build services for a wide variety of markets, serving clients in both the public and private sector. With more than 2,400 employees across the U.S., the company has been cited as a Top 10 Green Builder by Engineering News-Record, and as one of the 100 Best Companies to Work For® by FORTUNE magazine, four years in a row. The company is part of London-based Balfour Beatty plc, a global infrastructure services business operating in more than 80 countries, with a worldwide commitment to providing assets that help societies function, develop, and thrive. To learn more about the company, visit http://www.balfourbeattyus.com or look for BalfourBeattyUS on Facebook,Twitter, and LinkedIn.
About Austin Commercial
Austin Commercial is a subsidiary of employee-owned, Austin Industries. Founded in 1918, Austin Industries is one of the nation's largest, most diversified construction companies. With more than 5,000 employee-owners, Austin is among the largest construction managers in the nation and ranks 23rd on ENR's list of the 100 largest CM at Risk Contractors in the United States. Austin was named the Nation's Safest Contractor in 2012 by the Associated of General Contractor of America (AGC).
About Woodbine Development
Woodbine is a 39-year-old, full-service real estate company focused on development, investment/acquisition and asset management opportunities across the United States. The company specializes in hotels, resorts and golf courses; multiuse land and mixed-use developments; and real estate services provided to corporations, non-profit organizations and individuals. Woodbine has been involved with more than $2 billion in commercial real estate projects, including development, ownership and/or asset management of more than 6,000 hotel rooms, 18,000 acres of land and 126 holes of championship golf. To learn more, visit http://www.woodbinedevelopment.com