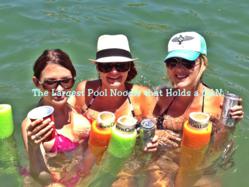 The CanUdle keeps beverages safe and cold while you're floating in the water with friends and family
Waynesville, Ohio (PRWEB) March 28, 2013
CanUdle, supplier of one-of-a-kind pool noodles, announces a pool noodle that keeps you and your drink afloat. Just in time for Spring Breakers everywhere, the CanUdle keeps beverages safe and cold while you're floating in the water with friends and family.
Measuring a whopping 4.5 inches in diameter, The CanUdle is the largest pool noodle available and has the strength to easily hold a full sized adult while keeping a drink upright, creating a hands-free experience. All CanUdles come with a CanUzie, a foam sleeve that fits in the end of a CanUdle that keeps the beverage cold and secure.
The CanUdle is becoming the newest must-have item for Spring Breakers heading to pools, lakes and oceans across the country. Boaters have been getting an eyeful of CanUdle lately as it made rounds at several boat shows, and are excited to be the first to share new toys with fellow water lovers.
Jeff Stahl, owner of the Parts Express retail store in Springboro, OH explained, "We decided to offer our customers CanUdles and sold out the first week. A lot of people said they thought of the idea to have a pool noodle that would hold a drink while floating, but never thought someone would invent such a thing. They love them and we can hardly keep them in stock."
Released in late 2012, the CanUdle has been a huge hit locally for the past year. To ease the increasingly heavy demand on their website, the CanUdle is now shipping nationwide. Purchases can be made directly from the http://www.canudle.com.
About CanUdle:
Founded in 2012, CanUdle is a woman owned business that was founded to provide the ability to float in the water hands-free, while simultaneously enjoying a cold beverage. The CanUdles products are made only with FDA approved dyes and safe for all humans. To learn more, call CanUdle toll free at 1-888-217-8886 or visit http://www.canudle.com .