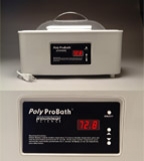 Pitting and scaling create tiny porous alcoves for microbial contaminants to hide. The Poly ProBath cannot pit and tough scale build up can be wiped off with damp towel.
Minneapolis, Minnesota (PRWEB) March 28, 2013
From humble high school classrooms to the most advanced pharmaceutical testing facilities, water baths are the most common device in any laboratory. But there are serious problems that surround the use of traditional metal water baths. Revolutionary Science believes that they have resolved the common concerns with their plastic chamber design. To describe the capabilities of the popular selling Poly Pro Bath, Revolutionary Science just released a new product video.
The most common frustration surrounding water baths is sample contamination. It is imperative that a water bath remain clean. " It is intended to provide a clean, stable environment for incubation, heating, and thawing. But the warm, moist environment creates a perfect incubator for microbes [that cause contamination]." states Lab Manager Magazine in a recent article.
Contamination is too common in metal water baths. Most metal water baths can be very difficult to clean, due to pitting (from harsh class I deionized water) or scale build up (from the water being too dirty). Pitting and scaling create tiny porous alcoves for microbial contaminants to hide. The Revolutionary Science Poly ProBath eliminates this problem by constructing their bath out of rugged polymer instead of metal. The bath cannot pit and tough scale build up is wiped off with a damp towel. Therefore there is no place for the contaminants to survive.
Revolutionary Science boasts another advantage that polymer construction provides. The highlight of the video shows the water bath being whacked with a large ball peen hammer. The hammer leaves no dent or scratch. According to officials at Revolutionary Science, small water baths are used a lot. They take serious abuse in the fields of microbiology, food and beverage testing, bacteriology, pharmaceutical, molecular biology and education.
"Using a bath that can take a beating is crucial," states Sandy, a high school biology teacher. "and I think Revolutionary Science has incorporated that philosophy very well in their water bath product line."
It is this construction that has made the device so popular in recent years. "There isn't much of a secret" states Isaac Erickson of Revolutionary Science, " The exterior is made of rugged polypropylene and the interior is composed of talc filled polypropylene, so the bath can handle abuse and still maintain precise temperature settings from ambient to boiling.
The Poly ProBath has a capacity of 5.5 liters. Its sister product, the Dual Poly ProBath boasts two 5.5 liter chambers in one unit. Revolutionary also offers a small peculiar product called the "Mini ProBath" which has a very small chamber of half a liter. All three products are referenced in the video. The drawback however, is that Revolutionary Science specializes in small, affordable water baths and does not yet manufacture larger units.
According to the video, the Poly ProBath and Dual Poly ProBath both employ digital displays, user friendly calibration and low water detection alarms. For more information on the video or on Revolutionary Science's products, visit them at http://www.revsci.com.