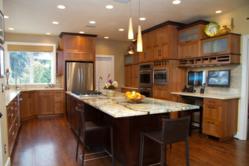 "Attendees will learn how to stretch their remodeling dollar and make small spaces look big."
Portland, Oregon (PRWEB) March 29, 2013
Neil Kelly Company announces its "Kitchens! Kitchens! Kitchens!" design event presented by BASCO and KOHLER/Ferguson to be held Saturday, May 4, 2013 in Portland.This all-day design event is free and devoted entirely to the heart of the home—the kitchen.
"Attendees will learn how to stretch their remodeling dollar, make small spaces look big and bring modern convenience to historic homes," states Tom Breunig, marketing manager. The event features workshops on design trends, sustainable materials, a live cooking demonstration, cost saving remodeling tips, how to make it easier and safer to "age-in-place" and remain in ones home for years to come, and a first-hand look at the latest kitchen appliances. Attendees are invited to bring their photos, plans, and tough design questions and to 'ask the remodeling experts' for advice on any home project. Food and wine tasting will be offered.
More event information can be found at http://www.neilkelly.com
Seminar Schedule:
9:00 am: Event opens. Guided tours of the design center begin.
10:00am: Aging in Place: Kitchens for Life. How to design a kitchen that works now and for years to come
11:00am: Kitchen Design Trends. Learn what's new in energy efficiency, colors, products, surfaces, cabinetry and countertops.
12:30pm: Appetizers that Rock. This cooking demo shows how to transform a cocktail party into a destination event. Recipes and tastings included.
1:30pm Kitchen Appliance Revolution Learn how revolutionary changes in appliance technology make it easier to cook, clean and entertain like never before. Manufacturer's experts from BASCO and KOHLER/Ferguson will provide a guided tour of the latest options.
2:30pm: Classic to Contemporary. Remodeling Ideas to Transform the Heart of Every Home. Options in fixtures, materials, flooring, and countertops.
4:00pm: Kitchen Party. Enjoy refreshments, mingle with fellow guests, presenters, remodeling designers, manufacturers reps, and other homeowners over wine and appetizers.
All Day: Ask The Remodeling Experts. Bring photos, plans, ideas and 'ask the remodeling experts' for free advice on any home project.
All Day: Ask A Homeowner. What's it like to live through a remodeling project? What should you know before you begin? Hear tips and real-life advice.