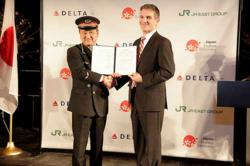 New York, NY (PRWEB) March 29, 2013
Grand Central Terminal and Tokyo Station agreed on the sister station relationship on March 19 in the opening gala of Japan Week 2013, the annual Japan tourism event. Tokyo Station will have its centennial in December 2014, and Japan National Tourism Organization (JNTO) will promote train travel more for Japan tourism and the awareness of train travel.
Prior to the sister station ceremony in the kick-off event of Japan Week 2013, Mr. Masaki Ogata, the Vice Chairman of East Japan Railway Company (JR-East), one of the Bullet Train operators, appeared in a tourism seminar sponsored by All Nippon Airways (ANA). He disclosed his company's recent achievements and near-future plans to the audience, appealing efficient travel suggestions.
Mr. Ogata revealed that Japan's railway system continues to grow even more: A new line is scheduled to open in 2014 to the Hokuriku region, where a popular destination of Kanazawa will be much more directly accessible from the Tokyo area. JR-East just announced that they completed the full extension of the northern bound Bullet Train (Tohoku Shinkansen) in 2010, and they have just reached at the world record speed of 320km/h (199mph) on March 16, tying with the TGV system in France. Despite of the unprecedented earthquake and tsunami disasters, the Bullet Train line also extended all the way to the south most point of Kyushu, the southern island of the Japanese archipelago, which completed the maximum coverage of the entire country.
In the southwestern island of Kyushu, a new concept luxury train service is about to start, and all the seats were quickly sold out domestically as soon as reservation hotline went live. Branded as Cruise Train Seven Stars, Kyushu Railway Company (JR Kyushu) runs a brand-new luxury sleeper trains cruising through main tourist destinations in Kyushu. Despite of the ticket price starting from almost $2,000, international attention is already soaring, and JR Kyushu is considering international sales in 2014. In addition to the superior service and hospitality in the relaxing suite rooms, passengers enjoy exclusive designs such as panoramic windows and special décor made with Kyushu's local crafts and traditional artworks.
For more tourism attractions, JNTO also connected high popularity of Japanese food to train travel. Ekiben (bento sold at train station), is the unique custom in today's Japan for train travel, and it is the great example of Japan's varieties of local flavors packed in the bento box to take on the train trip. With Japan's esthetic and design elements, ekiben is a perfect assortment of Japan's food, design, and regional culture.
Japan Week 2013 was the annual event to encourage tourism to Japan, and Tokyo Station became the very first sister station for Grand Central Terminal, and this remarks new phases of cultural exchanges and relationship between New York and Tokyo, not to mention between the two countries. Through the train culture and regional diverse, JNTO is going to raise awareness on the efficiency and attraction of train travel in Japan, also re-introduce Japan's attractive destinations and regional flavor of Japanese cuisine.