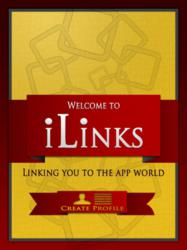 (PRWEB) March 28, 2013
A new app for iPhone and iPad called iLinks automates the process of finding new apps, music and books in the iTunes store. iLinks is available in a free Lite version or paid $0.99 version.
First, the user is prompted to create a profile. The user's profile only requires a name, but can incorporate information such as birth year, sex, email address, Facebook and Twitter accounts, school name and major, and employer and position.
The user can also document his or her interests to allow iLinks to make intelligent app choices on the user's behalf. Categories of interests include hobbies, music, and books. The more information the user fills in, the more targeted recommendations are displayed under Apps, Music, and Books on the results page.
The user can modify the iLinks profile at any time, bringing up a new set of automatic results. There's also a search function, so the user can find any app regardless of preferences. Once an app (or music album or digital book) is selected, the iTunes store is opened for the download.
Apps are presented in different categories, such as Business, Entertainment, Games, Lifestyle, News, Photo & Video, Productivity, Social Networking, and Utilities. Music is likewise separated into genres like Classical, Rock, Soundtrack, and World; Books are in categories like Biographies & Memoirs, Business & Personal Finance, Family & Relationships, Fiction & Literature, Historical, Humor, Philosophy, Politics & Current Events, Reference, and Travel & Adventure.
The Lite version of iLinks is available for free and is limited to two entries in each of the interest categories. The paid version iLinks is only $0.99 and allows more interests to be entered. The paid version is also free of all advertising.
iLinks was developed for 4M Development by Zco Corporation, one of the largest iPhone, iPad, Android, BlackBerry and Windows Phone developers in the world.