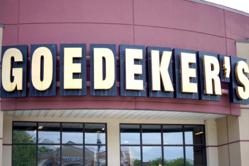 Goedeker's has always been known for price...
Ballwin, MO (PRWEB) March 29, 2013
Have you always thought the kitchen of your dreams was out of your reach?
Now, it doesn't have to be, because online appliance retailer Goedeker's commits to selling high-end brands at extremely discounted prices.
All top-of-the-line appliance brands like Bosch, GE Café, Electrolux and more will priced with deep discounts.
"These are brand new units we're talking about," says Goedeker's CEO Steve Goedeker.
"Goedeker's has always been known for price in St. Louis," continues Goedeker. "Now, we are bringing those prices to the Internet. In this new initiative, we are committed to discounting the high-end appliance brands as much as possible."
Visit Goedekers.com to explore discount appliances online.
ABOUT GOEDEKER'S
Since its founding in 1951, Goedeker's has steadily grown to become a premiere online retailer. From appliances, furniture, mattresses, household goods, and plumbing supplies, Goedeker's offers a wide selection. To learn more, visit http://www.goedekers.com/.