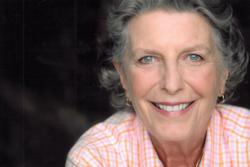 This is the best place to be. There are so many opportunities here for me to attend or act in productions in Chicago's rich theatre community.
Evanston, IL (PRWEB) March 28, 2013
Ann Stevenson Whitney, veteran actress of Chicago stage, film, and commercials, is a new resident at Westminster Place retirement community in Evanston, IL. But retired? She is currently performing five times a week in the highly praised (Chicago Tribune) "Everything is Illuminated" at Evanston's Next Theatre, which has been extended until April 14, 2013.
The production is semi-biographical and based on the first novel by Jonathan Safran Foer. A young American Jewish writer, Jonathan, travels to the Ukraine in search of his roots and of the woman who may have saved his grandfather during the Holocaust. Ms. Whitney's character is "Old Woman." Is she the old woman for whom he is searching? The play leaves the question unanswered, and Ms. Whitney thinks that mystery makes the play more intriguing.
Ms Whitney has been acting for more than 35 years. "Many people who are retired from long careers ask me what I'd like to do next at this time in life," says Ms. Whitney. "I simply tell them I just want to do more of what I've been doing – acting. It's what I love."
"Acting allows you to create a whole new person for yourself," continues Ms. Whitney. "It's a fabulous experience to perform in company with all of the talented designers, producers and directors. Live theatre is exciting because you tell the story from beginning to end and experience the immediate reaction of the audience.
She first appeared onstage at Next Theatre in 1982 in "A Different Moon." Other Chicago theater roles include "Sister Lee in Do Black Patent Leather Shoes Really Reflect Up?" (Marriott Lincolnshire); Hecuba in "Trojan Women" (Goodman Theater); Big Edie in "Grey Gardens" (Northlight Theater); A in "Three Tall Women" (Apple Tree); Mrs. Watts in "Trip to Bountiful" (American Theatre Company); and Mrs. Frasier in "Stepping Out" (Steppenwolf Theater). Ms. Whitney has several Joseph Jefferson (Jeff) Award nominations and was honored as a Chicago Leading Lady by the Sarah Siddons Society for her work in "Driving Miss Daisy." She has also performed in theaters in Indiana, California and Louisville.
Ms. Whitney has appeared in commercials for Walgreens, Glade, McDonald's, and Beltone. Her motion picture career includes "Sugar," "Home Alone," "The Fugitive," and "While You Were Sleeping." Ms. Whitney is the sister of the late actor McLean Stevenson who played Col. Blake in the television series "Mash" for many years.
Ms. Whitney and her husband, Bill, moved to Westminster Place to remain in their Evanston, IL, neighborhood where they have lived for more than 50 years. The location keeps them close to their children, church, and Ms. Whitney's alma mater Northwestern University. Ms. Whitney says "This is the best place to be. There are so many opportunities here for me to attend or act in productions in Chicago's rich theatre community."
Her husband Bill, retired from his own medical device company, appreciates the new friendships and activities offered at Westminster Place. But it was the concept of a continuing care retirement community (CCRC) that attracted him most. Mr. Whitney says "Continuing care addresses any future health issue or life transition. If anything were to happen to either one of us, the other is taken care of. I like that plan."
About Presbyterian Homes
Founded in 1904, Presbyterian Homes is a not-for-profit, faith based organization with anational reputation for creating extraordinary retirement communities. Presbyterian Homes serves older adults through its residential and health care programs on campuses in Evanston, Lake Forest, Arlington Heights and Chicago, Illinois. The organization is accredited by CARF-CCAC (Commission on Accreditation of Rehabilitation Facilities - Continuing Care Accreditation Commission), the nation's only accrediting body for retirement communities. To find out more about Presbyterian Homes, go to http://www.presbyterianhomes.org