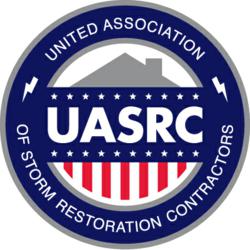 Responsible roofing companies have formed the United Association of Storm Restoration Contractors - Mike Munk
Round Rock, TX (PRWEB) March 28, 2013
The United Association of Storm Restoration Contractors (UASRC) is responding to the hailstorm that affected Atlanta on March 18th. Currently, seven contractor members are assisting homeowners in the region. The storm hit in the late afternoon hours and could have affected upwards of 100,000 homes. UASRC Founding member Mike Munk, owner of Ideal Roofing and Siding was interviewed by Fox 5 Atlanta cautioning homeowners to watch out for unscrupulous contractors. You can watch the interview HERE. UASRC members are contractors who offer multiple storm restorations services, and will be able to assist homeowners with any damage repairs needed.
UASRC Members that are available to assist homeowners can be contacted at the numbers below and more information can be found on the UASRC website by clicking on Georgia.
Ideal Roofing and Exteriors: 770-460-0048
Kaiser Siding and Roofing: 678-771-8291
PGRS: 770-486-3988
Precision Roof Contractors Inc.: 770-475-0500
HG Solutions for your home: 770-683-6822
Affiliated Contracting Services: 800-960-2790
American Home Specialists: 888-444-8023
The UASRC wants to caution property owners to be careful when hiring a contractor. It is typical after severe weather for transient roofing companies to flood in to "help" with insurance claims. Some appear to be trusted contractors, but are in fact are out of state drifters renting the quality local name to mask substandard work, and fool local residents. This often leads to homeowners being taken advantage of. Sadly many homeowners give sizable down payments to these fly by night contractors, and are not able to repair their property when the contractor disappears with their money. The UASRC is a Non-Profit association whose members abhor these practices, and operate their business in strict accordance with the UASRC professional code of conduct. Homeowners will be able to instantly recognize UASRC members by the identification badge bearing the UASRC seal or other UASRC branding on vehicles and company clothing.
Using a UASRC member is the safest option when choosing a contractor to restore your property. If you choose to use a standard contractor please be careful and find out the following information to help identify if they are legitimate contractor:

Clearly represents their products and services, including adequate disclosures of all material terms in writing
Provides proper and current information on their state licensing, and liability insurance coverage
Openly identifies the nature, location and ownership of their business and clearly discloses all policies, guarantees and procedures relevant to the customer repairs
Abides by all written agreements and verbal representations
Does not offer or agree to cover the insurance deductible
The UASRC was formed in part to give property owners the information they need to make an informed decision in regards to their storm related repairs. Our Facebook page, UASRC Facebook and website at http://www.uasrc.org are both sources of information related to the storm restoration industry. The UASRC also serves as a resource for property owners and contractors that have fallen victim to disreputable contractors, and insurance claim related issues.