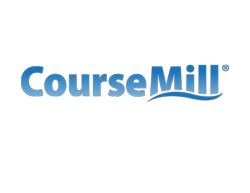 With these new updates, e-Learning delivery and management is now much faster, easier and efficient for our users
CINCINNATI (PRWEB) March 28, 2013
CourseMill® learning management system (LMS) releases new features and enhancements to make e-Learning tracking, reporting and management efficient and simple. These new updates provide an easier solution for learners, instructors and administrators to meet their e-Learning and course management goals with CourseMill LMS.
"CourseMill has always been known as an easy-to-use tool for learning management," said Peter Bray, Chief Marketing Officer. "With these new updates, e-Learning delivery and management is now much faster, easier and efficient for our users."
CourseMill 6.8 includes new features and updates for e-Learning management, tracking and reporting including:

Duplicate Organizations – Create a Master Organizational template and easily duplicate for each new Organization created to save time.
Customizable Templates for News Page – Welcome learners with an engaging, informational news page easily created from one of the customizable Lectora templates.
Calendar View for Learners and Instructors – Learners and instructors can both easily view their courses in a monthly calendar snapshot including due dates and enrollment expiration dates.
Document Version Tracking – Documents in the My Courses and Community tabs will display an indicator for all new documents for learners to view.
Automated Re-enrollment at the Course Level – Now, users can set a Course to automatically re-enroll a learner after a specified number of days. This is great for compliance courses that learners must repeat.
Due Date Indicator for Course Completion – Courses with upcoming completion or expiration dates are now highlighted on the My Courses page.
New Learner Information Columns – Track unique data in one of eight configurable information columns for learners in the new Personal Info tab.
To learn more about CourseMill and to see the full list of new features in CourseMill 6.8, please visit: CourseMill 6.8 LMS and select the Product Features tab.
CourseMill LMS makes it easy to deliver, manage and track online training with its powerful, flexible and affordable learning management system. Users can choose from CourseMill Hosted or CourseMill Enterprise to find the best solution for their organization. CourseMill Hosted provides a hassle-free solution for the delivery of online training with no maintenance required. CourseMill Enterprise allows organizations maximum control over their training with full customization capabilities.
About Lectora®
Lectora® is the world's leading e-Learning software used by most Global 2000 companies in more than 125 countries and is offered in six languages. The Lectora line of e-Learning products includes Lectora Inspire, Lectora Online, Lectora Publisher and Lectora Integrator. The makers of Lectora also produce Flypaper™, the leading Flash content creation platform, Snap! by Lectora® rapid e-Learning software and its sister product, Snap! Empower™ Flash interactions builder. The Lectora family of e-Learning products also includes CourseMill® learning management system (LMS) and Lectora Talent Management. Lectora is headquartered in Cincinnati, Ohio with offices in Boca Raton, Phoenix, Paris, London and Beijing. Lectora, Flypaper, CourseMill, Snap! by Lectora and Snap! Empower are trademarks of Trivantis® Corporation.
Website: Lectora.com
Phone: 1.877.929.0188 / +1.513.929.0188
Facebook: facebook.com/LectoraeLearning
Twitter: twitter.com/Lectora
Blog: Lectora.com/blog