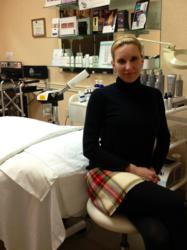 Healthy skin is beautiful skin. The office of Dr. Stephen Lazarus looks forward to discussing your skin care concerns and helping you achieve the beauty you deserve.
(PRWEB) March 28, 2013
The office of Dr. Stephen Lazarus, Knoxville, TN, a Board Certified plastic surgeon with over 30 years experience, offers a full range of cosmetic surgery and injectable services. Dr. Lazarus states, "A medical skin care regimen and regularly scheduled skin care procedures are vital in maintaining a healthy and youthful appearance. These procedures and products serve my patients by enhancing, improving and maintaining their surgical and injectable results. This is the reason my office provides such care through the services of a licensed, paramedical esthetician who has been fully trained in all skin care and laser services and products offered at my practice, Aesthetic Plastic Surgery Associates, P.A."
Dr. Lazarus and his staff are bidding a fond farewell to his current paramedical esthetician, Shelley Wagner. After three wonderful years with the practice, she is leaving to be near her family in Virginia. The patients who have enjoyed Shelley's skin care and laser services, as well as her expert knowledge of the skin care lines carried by the practice, will miss Shelley. But Dr. Lazarus is happy to announce that he has hired another qualified, professional paramedical esthetician, Amye Smith. The practice is fortunate that Amye has been able to meet and treat many of Shelley Wagner's loyal patients before Shelley's departure, so a smooth transition is guaranteed. Amye will be providing all the services and expertise that patients have grown to love: chemical peels, microdermabrasion, dermaplaning, signature facials, non-invasive laser treatments for skin tightening, and hair, brown spots and small vein reduction.
The office carries SkinMedica, Obagi and Revision medical skin care lines. Every staff member in the office of Dr. Lazarus has used one or more of these product lines and can attest to their quality and effectiveness. Even Dr. Lazarus has his personal "Must Haves", but more on that later...
This office was chosen for clinical trials of the latest SkinMedica product, Lytera. The product, utilizing a totally non-hydroquinone formulation, achieves remarkable reduction of brown spots and pigmentation, while brightening and smoothing the overall complexion and skin tone. Every patient in the trial intends to continue the use of Lytera in a daily skin care regimen.
Come in to learn more from Amye Smith, LE, PME about how quality, medical-grade skin care products and treatments can benefit skin quality and texture and help achieve a more youthful appearance. Call 865-588-1662 to schedule your appointment for a complimentary consultation with Amye Smith, LE, PME.
Dr. Lazarus is offering all patients special values in professional, medical skin care to welcome his new esthetician, Amye Smith, to the staff. Receive a free SkinMedica Daily Physical Defense SPF 30+ sunscreen ($45 value) and 20% off your skin care product purchase with any paid skin care service provided by Amye. Also, with any paid injectable service provided by Dr. Lazarus, receive $25 off your next skin care treatment. Mention the code: "Welcome" to receive these offers through June, 2013.
Be sure to like Dr. Stephen Lazarus-Aesthetic Plastic Surgery, on Facebook, and visit the practice website, http://www.plasticsurgerymd.com for more news and offers.