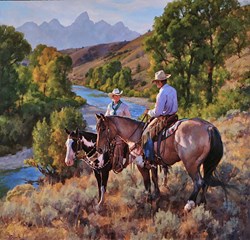 "Every painting starts with the horse for me," says Rich.
Jackson Hole, WY (PRWEB) March 28, 2013
Acclaimed cowboy artist Jason Rich has been chosen as featured artist for the 2013 Jackson Hole Fall Arts Festival, September 5 – 15, 2013, announced Maureen Murphy, Jackson Hole Chamber of Commerce Events Director. Each year the Jackson, Wyoming, arts event selects a featured artist, whose work graces the annual festival poster – which then becomes a collectible in its own right. Rich credits his Western roots as the inspiration behind his work, which draws on his experiences from riding beside cowboys in a corral to packing through the mountains to create paintings, that reflect the authenticity of the cowboy way.
"We are very excited to have Jason's work on the 2013 official Jackson Hole Fall Arts Festival poster," says Murphy. "His love of Western life is demonstrated through his work." Rich's original large-scale oil painting "River Overlook - Gros Ventre River Ranch" will be on display at the Wort Hotel from Memorial Day weekend through Saturday, September 14. Posters will be on sale at the Jackson Hole Chamber of Commerce and Rich will do a poster signing event at Legacy Gallery on Wednesday, September 11.
Jason Rich grew up riding, training and drawing horses on a small farm in southern Idaho. He spent many childhood summers on cattle drives with his uncle and couldn't imagine a better place to be than on the back of a horse. He currently lives on a small horse ranch with his family in Utah's Cache Valley.
"Every painting starts with the horse for me – the way the light catches its gesture and movement," says Rich.
Rich's work has been featured in magazines including "Art of the West," "Cowboys and Indians," "Southwest Art," "Western Art Collector," and on the cover of "Western Horseman," and in October 2011 was accepted into the elite Cowboy Artists of America (CAA).
In 2007 Rich was chosen as the featured cowboy artist and gave demonstrations, interviews, and workshops at the National Cowboy & Western Heritage Museum for their National Day of the American Cowboy event celebrating the 100th birthday of John Wayne. At the Autry National Center's 2008 Masters of the American West Fine Art Exhibition and Sale he was the recipient of the first annual Spirit of the West Award. Other honors include being selected the National Cattleman's Beef Association poster artist in 2002 and receiving the Best New Auction Artist Award at the C. M. Russell Auction in 1998. The Arts for the Parks competition awarded Rich the Grand Prize in 1997 and the Founders Favorite Award in 1999.
Company Information: Now in its 29th year, the Jackson Hole Fall Arts Festival brings its trademark mix of visual, contemporary, culinary, Western, landscape, wildlife and Native American arts to Jackson, Wyo., September 5 – 15, 2013. This year's festival offers visitors more than 50 family-friendly events, many of them free – and all surrounded by the Teton Mountains in their autumn beauty. Reservation information for Jackson's numerous hotels, as well as a complete schedule of Jackson Hole Fall Arts Festival events may be found at http://www.jacksonholechamber.com. For additional information, contact Maureen Murphy at Jackson Hole Chamber, 307.733.3316.
Media Contact: Darla Worden, WordenGroup Public Relations, darla(at)wordenpr(dot)com, 307.734.5335