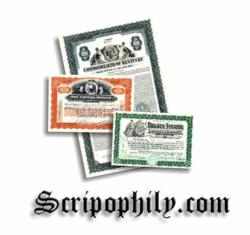 We are very proud in building Scripophily.com's Old Company Stock Research Service to become the largest and most complete in the world
WASHINGTON, DC (PRWEB) March 27, 2013
Scripophily.com recently completed its digitalization and integration of old stock and bond research archives acquired from Herzog & Co., Inc. in December 2011. The archive conversion included all electronic and paper archives from 1880 to the present. This included all reference material published by the Marvyn Scudders Manuals, the Robert D. Fisher Manuals, and all customer research communications from the Herzog & Co., Inc. and its predecessor companies obsolete research services.
The archives were digitalized and fully integrated with Scripophily.com's existing Old Company Stock Research Service which began in 1995. This conversion has been completed for over a million reference files on U.S. and foreign securities. " For more than a century, Herzog & Co., Inc. and its predecessor companies had been the leading specialists in the field of old stock and bond research services. With the acquisition and the completion of the research data integration, Scripophily.com now has the most extensive library of any old company stock and bond research service in the world. " said Bob Kerstein, Founder of Scripophily.com.
The archives began in 1880 when a young stockbroker, Roland M. Smythe, started a company to help people who owned stocks and bonds but lost track of the company who issued them.
Mr. Smythe was the first and foremost "old stock detective" in America, writing the definitive texts in the field and continuing to provide help for investors until he died in 1930. Old stock and bond research was continued with subsequent "old stock detectives" like Marvyn Scudder, Robert D. Fisher, John Herzog, and Bob Kerstein.
Scripophily.com / Old Company Research Service was extremely honored to be chosen as the successor company to all material published by the Marvyn Scudders Manuals, the Robert D. Fisher Manuals, and the Herzog & Co., Inc. obsolete research services, which has been performed continuously since 1880.
Scripophily.com - The Gift of History is the internet's leading buyer and seller of collectible stock and bond certificates and have items on loan for display in the Smithsonian's Museum of Financial History in New York. Our company has been featured on CNBC, USA Today, Associated Press, Reuters, Nightline, Today Show, Baltimore Sun, and Washington Post and in many other media publications. The company also offers the World's #1 old stock research service at OldCompany.com and offers high resolution scans for publications. Scripophily.com has over 17,500 selections on its website.
Stock and bond certificates are collected and given as gifts because of their historical significance, beauty and artwork, autographs, notoriety, as well as many other factors. The supply of new certificates reaching the collector market has already been substantially reduced due to changes in state laws and stock exchanges rules. Many companies are no longer required to issue physical stock and bond certificates, a process called "dematerialization".
Scripophily (scrip-ah-fil-ly) is the name of the hobby of collecting old stock and bond certificates. Certificate values range from a few dollars to more than $500,000 for the most unique and rare items. Tens of thousands of Scripophily buyers worldwide include casual collectors, corporate archives, business executives, museums and serious collectors.
Scripophily.com and Old Company Research Services was founded by Internet Pioneer, Bob Kerstein (Bob.com). Bob is a Certified Public Accountant and Chartered Global Management Accountant, and has more than 37 years of senior management experience in the Cellular, Cable TV, Satellite, Internet, Professional Sports and Entertainment Industries. Bob is also the President of the Professional Scripophily Traders Association (PSTA).
For more information on Scripophily.com®, visit http://www.scripophily.com, http://www.scripophily.net, http://www.bob.com or call 1-703-787-3552.
# # #