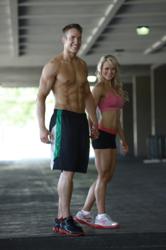 The truth is, no one wants to deal with a "Bridezilla," so, for the sake of everyone involved, encourage the bride to take care of her health with Workout Anywhere.
(PRWEB) March 29, 2013
Wedding season is approaching, which means brides are in full swing of making sure their wedding plans are complete for the perfect day. Every bride has been dreaming of their big day since childhood and it is important that everything looks just right, including the bride. That is why a quick, effective, affordable and convenient fat burning bridal workout system is vital for brides to be. Not only will this help the bride look stunning on her wedding day and on her honeymoon, but it also relieves the enormous amount of stress that goes with all wedding details. The truth is, no one wants to deal with a "Bridezilla," so, for the sake of everyone involved, encourage the bride to take care of her health and wedding fitness with Workout Anywhere by RundleFit.
Personal training, gym memberships and most home workout programs are expensive. As well, results are not a sure thing. In contrast, Workout Anywhere by RundleFit is affordable and provides the highest quality workout program for busy people. RundleFit's overwhelming support system of new, weekly workout videos (for all ability levels), meal plans, recipes, challenges, Q and A, fitness community and coaching provide the perfect solution for any bride. If one can spare 15 minutes, and turn on their mobile phone, tablet, TV or computer, then they can receive a highly effective, fat burning, total body bridal workout. Workout Anywhere by RundleFit is only $9.95 per month, making it the stress-free and smallest cost of one's wedding budget.
Most cannot say they had a stress free wedding. Bills, planning, corralling friends and family on top of a busy work/life schedule can make one's head spin. In turn, stress releases cortisol, which can make it difficult to lose weight and control excessive eating. Justin and Jessica Rundle are experts in fat burning/stress relieving workouts and it only takes 15-30 minutes. Their wedding fitness workouts are intense enough to burn body fat and tone sexy muscles in a short period of time. As well, they are the specialists in "Four Minute, Total Core Training" workouts. By adding this to your total body, bridal workout, one can have the results they want without doing hours of non-effective cardio (research the principles of H.I.I.T training and metabolic conditioning for more details).
Justin and Jessica Rundle are top trainers with years of experience in training individuals, groups, athletes and fitness models. They themselves are former athletes, fitness models and CrossFit athletes. Through it all, they know how important it is to be in optimum shape, especially for events like weddings. However, none of this is possible without the role of nutrition. All Workout Anywhere members have access to a number of whole food meal plans, recipes and nutrition guides. With the help of Jessica or Justin, one can find the perfect nutrition solution and bridal workout.
Make wedding fitness a cool summer breeze and the easiest part of the summer wedding season with RundleFit.
Cheers with water!