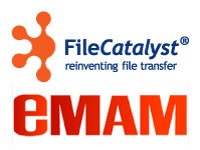 Ottawa, ON (PRWEB) March 28, 2013
Unlimi-Tech Software, Inc., a pioneer in managed file transfers and the creator of FileCatalyst, the world's leading accelerated file transfer solution, is pleased to announce an embedded partner agreement with Empress Media Asset Management, LLC., with the implementation of FileCatalyst Direct as part of the eMAM™ Media Asset Management platform. This integration will help to provide eMAM users with faster upload and download of media files.
eMAM is Empress' web-accessible digital asset management software system created to organize, share, and send digitized content for media professionals. The eMAM platform is capable of working with large media files from popular camera and editing systems such as DVCPro, XDCam, RED, ARRI, ProRes, DNxHD, and many other large media file formats. One of the major bottlenecks for users is the upload, download, and transfer of these files over the internet. By implementing FileCatalyst as part of the eMAM system users will experience faster production times and improved ROI.
FileCatalyst's UDP-based file transfer technology transfers digital media at maximum rates without being impeded by network impairments, such as latency and packet loss experienced with TCP/IP. While TCP/IP forms the backbone of the internet and is the basis of popular FTP and HTTP protocols, it is far from ideal for sustained data transfers. The FileCatalyst accelerated file transfer protocol offers incredible speed gains versus traditional methods, allowing user transfer speeds of up to 138x faster than FTP.
"We are extremely pleased that Empress, one of the leading asset management software solutions, has integrated our accelerated file transfer solution into its eMAM," says Alan Atkinson, Vice President of Business Development at Unlimi-Tech Software, Inc. "Like FileCatalyst, eMAM is able to integrate seamlessly with many cloud platforms, including Amazon Cloud Front and Microsoft Azure."
The combined eMAM and FileCatalyst solution will be demonstrated at the upcoming National Association of Broadcasters Convention being held in Las Vegas April 8th-11th. FileCatalyst will present demonstrations at booth SL13013 and eMAM will be at booth SL12505.
About Unlimi-Tech Software, Inc.
Located in Ottawa, Canada, Unlimi-Tech Software is the creator of FileCatalyst, the world's leading accelerated file transfer solution. Founded in 2000, the company has more than one thousand customers in media & entertainment, energy & mining, gaming and printing, including many Fortune 500 companies as well as military and government organizations. FileCatalyst is a software platform designed to accelerate and manage file transfers securely and reliably. FileCatalyst is immune to the effects that latency and packet loss have on traditional file transfer methods like FTP, HTTP or CIFS. Global organizations use FileCatalyst to solve issues related to file transfer, including content distribution, file sharing and offsite backups.
To learn more visit http://www.filecatalyst.com
About Empress
Empress Media Asset Management, LLC., a private company, is a leading provider of digital asset management and workflow management systems for media & entertainment, and corporate clients. It is part of the Empress family of companies, which includes Empress Cybernetics System PVT LTD, specializing in customized software and database development and Empress Media Inc., one of the largest distributors of blank recording media and supplies.
To learn more visit http://www.empressmam.com