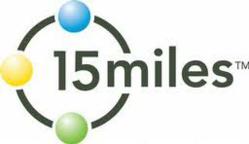 For more than half of all mobile device users, the number one function is search.
San Francisco, CA (PRWEB) March 28, 2013
The facts about mobile have all been heard. According to Google, there are over 4 billion mobile phones in use and 40 million tablets. The total number of cellphones has surpassed desktops five times over. 82% of U.S. adults own a cellphone. But with over 6 billion mobile devices in use globally, their primary use was still uncertain, until now. Thanks to the 15miles/Neustar Localeze sixth annual comScore Local Search Usage Study, there are now answers to the mobile questions everyone has been asking: What, Who, & How.
What Are Mobile Devices Really Being Used For?
For more than half of all mobile device users (56%), the number one function is search, with local searches playing a considerable role. In fact, nearly 86 million people report seeking local business information on their mobile phones in the United States. That's an increase of 25% in just the last eight months. Of the 86 million users, 56% say they use their mobile devices for searching because they're on-the-go and need immediate access to information.
Who Is Being Searched?
It is now known that people are searching for local businesses, but what businesses are being searched most often? 23% of searchers say their last local business search was for a restaurant. Additionally, the automobile vertical proved to be a popular category with 11% of searchers citing auto dealerships as their last local search.
While specific verticals may come as no surprise, the search type, whether a general search for the vertical or a specific search with a local business in mind, may be unexpected. For example, local business searchers looking for pharmacies, doctors or financial services such as banks, are more likely to have a specific business in mind while conducting their search. On the contrary, 65% of searchers looking for a local hotel say they don't have a specific business in mind, and more astonishing, 83% of people searching for local jewelry retailers, have no particular business in mind.
How Are People Searching?
As the total number of local mobile searches increase, so do the number of sources being used to gather local business information. The study shows that the average searcher reported using 2.5 different source types when seeking local business information. These sources included: Portal sites, Internet Yellow Pages sites, Local search sites, Social Networking sites, and consumer review & rating sites. In 2012, 39% of people cited Local Search sites as their primary or secondary source for local business information. Additionally, of mobile phone searchers who cite using mobile applications to search for local businesses, 35% say they use Google Maps.
"Year after year, the significance of the study findings amazes me, and this year is no exception," says Gregg Stewart, North American President of Geary LSF and 15miles. "The key findings in this year's study are sure to make an impact on, not only local search best practices, but media and advertising as a whole." This is Mr. Stewart's 6th year of involvement with the study.
Methodology
The 15miles/Neustar Localeze Local Search Usage Study, conducted by comScore, was designed to analyze the behavior, attitudes, and intentions of online local business searchers. The survey study consists of a targeted sample of over 3,000 local business Internet searchers, broken into 3 categories: Internet Yellow Pages, Local Search Sites, and Portal Search Sites. The overall study design leverages both quantitative and behavioral data from comScore's U.S. consumer panel.
To view the study in its entirety or download the white papers and infographic, please visit http://www.localsearchstudy.com.
About 15miles
15miles, the local search division of Geary LSF Group, is a leader in local, mobile and social marketing solutions for national and regional brands. Applying the management team's proven expertise and rich history in local search marketing to its services, 15miles offers a variety of solutions that include social marketing, search engine optimization, pay-per-click advertising, website design and development, Internet Yellow Pages, local business listing management and mobile solutions. For more information, please visit http://15miles.com or http://www.gearylsf.com.
About Neustar-Localeze
Neustar, Inc. is a trusted, neutral provider of real-time information and analysis to the Internet, telecommunications, information services, financial services, retail, media and advertising sectors. Neustar applies its advanced, secure technologies in location, identification, and evaluation to help its customers promote and protect their businesses. More information is available at http://www.neustar.biz and on Localeze at http://www.neustarlocaleze.biz.