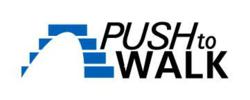 Riverdale, NJ (PRWEB) March 28, 2013
Push to Walk is a non-profit that provides individualized workouts and resources to people with spinal cord injuries and other forms of paralysis to optimize current quality of life and to prepare for future medical advancements. The trainers' approach is a cutting edge technique encompassing what the medical community terms "Activity Based Training."
Recently, Push to Walk has made attempts to reach out and provide information on the organization to all veterans. The non-profit feels it is important that veterans know what type of service they provide in their specialized gym and the endless possibilities for reaching personal goals and independence they hope to help them achieve. Push to Walk holds the potential to be very useful in assisting the veteran community. The organization strives to give back to veterans for all they have given for our Country.
Push to Walk Founder, Cynthia Templeton attended a Welcome Home NJ Vets meeting in early March where she had the opportunity to present how the organization can benefit the veteran population. "Cynthia and I are making attempts to connect with various veteran service providers including the Veterans Hospital," says Trish Mulligan, Director. "This is an area which we feel strongly about pursuing and has become a top priority in outreach."
Push to Walk is only able to cover about 65% of its operating costs through client fees, and relies on events, grants, and donations to help make up the difference. "Our clients come to us because they see an improvement in their quality of life. We don't want higher fees to stand in the way of them achieving their goals," explains Templeton.
If you know of any veteran groups or organizations that may benefit from the services Push to Walk provides, please contact Stephanie Lajam at (862) 200-5848 or slajam(at)pushtowalknj(dot)org. Donation opportunities are available on the Push to Walk website: http://www.pushtowalknj.org.
#####
About Push to Walk
Founded in 2007, Push to Walk is an organization that provides individualized workouts and resources to people with spinal cord injuries and other forms of paralysis to optimize current quality of life and to prepare for future medical advancements. It is the only program of its kind in the New York- New Jersey area. Push to Walk's rigorous one-on-one workout approach challenges clients to reach their personal goals and achieve maximum independence, leading to greater success and fulfillment in their personal and professional lives. Push to Walk is only able to cover about 65% of its operating costs through client fees, and relies on grants and fundraising events to help make up the difference. A 501(C)3 non-profit, Push to Walk is located in Riverdale, New Jersey. Visit http://www.pushtowalknj.org to learn more.